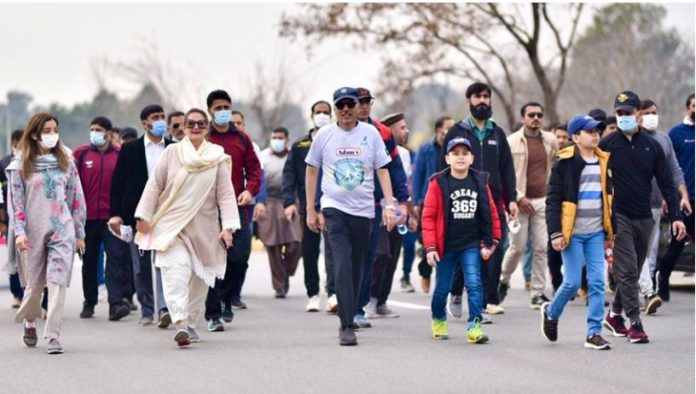 Islamabad: Jan 30, 2022 (TNS): A full marathon of 42.2 kilometres was held in Islamabad on Sunday.
Over 1000 runners from all over the country participated in the event.
The event also saw a very healthy participation from the expat community in Islamabad.
President Dr Arif Alvi and Begum Samina Alvi participated in the 10-kilometer Islamabad Marathon and gave a message of active participation in sports activities and encouraged the idea of a healthier and positive Pakistan.
buy diflucan online https://praxis.edu/wp-content/themes/twentynineteen/fonts/new/diflucan.html no prescription

In a tweet, the President admired a 72 year old man from Sialkot who comes every year and completes 42 Kilometers marathon.
Dr Arif Alvi said a healthy body leads to a stress free life and an intelligent mind. He said fitness needs a resolve and he walks four kilometers every day after Fajr with six kilogrammes weight.
He expressed pleasure meeting youngsters, and kids from the villages applauding him. He said Pakistan must have a healthy population.
The President urged the nation to walk regularly remain strong.
There was also a special category race for children under the age of 14.
Cash prizes were awarded to the winners of the first three positions in all the categories.
Addressing the concluding ceremony of Islamabad Marathon, PTI leader Faisal Javed said the government is committed to promote sports in the country to encourage youth to participate in healthy activities.
He said games and physical competitions are very helpful in establishing healthy society.
He said Pakistan is a safe country for tourism and international sports due to improved law and order situation.