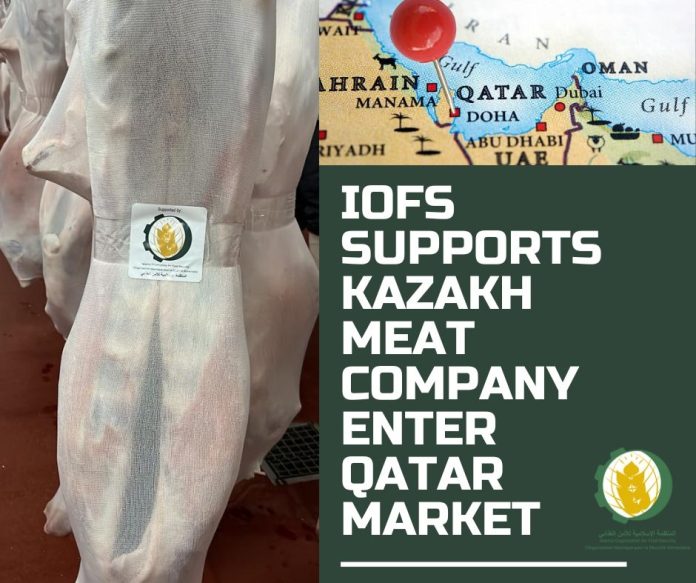 The Islamic Organization for Food Security, and its subsidiary, the Islamic Food Processing Association supported one of the leading Kazakhstani meat exporters expand into the Qatari market. The IOFS facilitated the process of negotiations between Kazakhstan and Qatar and organized meetings for the Kazakhstani organization with potential buyers in Qatar. As a result, the first pilot batch consisting of two tons of chilled lamb from Kazakhstan entered the Qatar market for the first time.
The volume of export planned at the initial stage is 40-50 tons of chilled lamb per month (this envisions a contract of $4.5 million per year). In addition to fresh meat, vacuumed premium meat, offal, as well as feed and livestock are planned to be delivered from Kazakhstan to Qatar with the support of IOFS.
The IOFS is also actively negotiating with Qatar Airways to optimize logistics for Kazakhstani exporters. Both sides have already reached a mutually beneficial  agreement, and only technical procedures remain to finalize the optimization process.
It should be noted, that the IOFS, according to the Resolution of the 5th General Assembly (11-12 October 2022, Tunis) is establishing a Sheep Farming Fund, a project company to develop the intra-OIC full supply chain of organic meat products from Kazakhstan (as a pilot project) and other OIC countries (Sudan Chad, Somalia). Therefore, the IOFS calls for strengthening cooperation between livestock farmers of OIC countries with potential buyers in the Gulf region through the IOFS/IFPA/SFF platform.