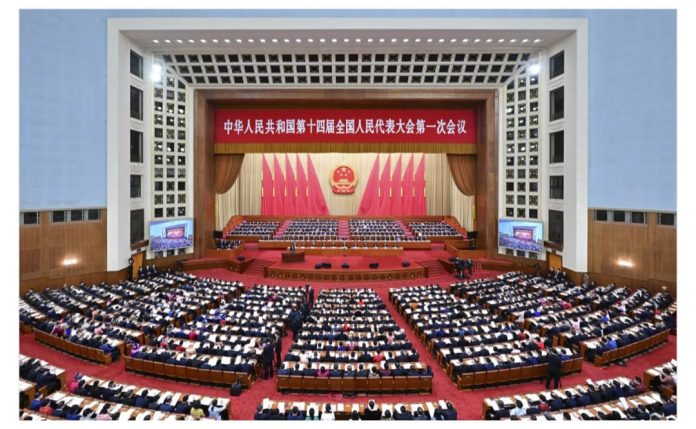 The work report 2023 produced some of the important china's course of action nationally and internationally. The opening meeting of the first session of China's 14th National People's Congress (NPC) took place at the Great Hall of the People in Beijing on Sunday. The Chinese government work has been through years proved efficient for the government and transparent for the people. The great leadership's center of focus is its people. It has always highlighted the milestone achieved and embraced the shortcomings gracefully while coming up with a plan to improve. This year it discussed some of the extensive modern and preexisting Mr. Khalid Taimur Akram, Executive Director,
Pakistan Research Center for a Community with Shared Future (PRCCSF), Islamabad projects. Setting up a growth target to attain, improvement in industrial sector its structure and revitalizing the rural economy. As world is facing the horrendous challenges in the shape of climate change and pandemic China is keenly struggling for clean energy, for this purpose China is improving carbon reduction and energy conservation. The country worked harder to prevent and control pollution, and in cities at and above the prefectural level, air quality was good or excellent on 86.5 percent of the days over the past five years, a 4-percentage-point increase.
Bedside this some of the company diplomacy facts were also brought into light. Since decades, President Xi Jinping is playing his role in global peace building and always respects the territorial integrity and sovereignty. The government also maintained Macao, Taiwan and Hong Kong peace. for this mission the Law of the People's Republic of China on Protecting National Security in the Hong Kong Special Administrative Region has been formulated and put into effect, and the principle that Hong Kong and Macao should be administered by patriots has been applied in these two regions, the report noted. I believe that Chinese leadership has portrayed the practical implementation of its initiatives in this report. world has to recognize the tireless efforts of China. And I am honored to express my gratitude that China has supported all the countries in this realm.
Pakistan is also learning from the great examples of China especially in the new era developments.