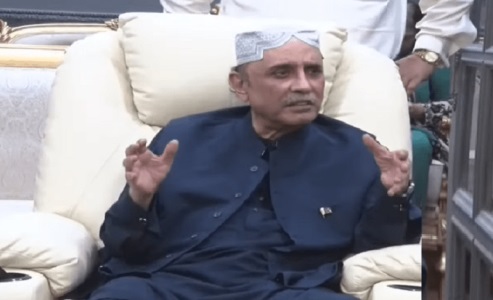 VEHARI: Explaining that Sindh had reservations over the digital census that is currently underway across the country, former president Asif Ali Zardari said on Monday that his party has its own stance and the Pakistan Democratic Movement (PDM) has its own.
Speaking to reporters at the residence of local PPP leader Shehryar Khak­wani a day after his son warned that the PPP may not remain part of the federal cabinet if their concerns were not addressed, Mr Zardari said his party was "part of the government" but not a member of the PDM alliance, adding that they would consider the question of alliances with other political parties when the elections are held.
Calling politics "the art of the possible", he said that while negotiations could be held with politicians and political parties, Imran Khan was not a politician.
Mr Zardari said that in his recent meeting with Prime Minister She­hbaz Sharif and Mau­lana Faz­lur Rehman, no discussion was held about elections.
The PPP leader said that Mr Khan's arrest was the headache of the interior ministry, and it was Nawaz Sharif's problem when to return home. On Bilawal Bhutto-Zardari's statement regarding leaving ministries in the Centre, Mr Zardari said that his son is a young man who gets angry easily when promises are not fulfilled
Giving the example of former PM Yousuf Raza Gilani, Mr Zardari said that he preferred those who struggle and do hard work in politics. He recalled that Mr Gilani had remained imprisoned for six years, adding that this was one of the reasons why the party chose him as its prime minister.
"Imran Khan fears facing courts but a politician does not fear the courts or the prisons," a statement issued by the PPP Media Office quoted him as saying.
"Imran Khan wanted to sell all the institutions of the country but we saved the country by ousting him from power," he said, adding that taking U-turns was "in his nature".
He also attributed Mr Khan's success in the recently held by-elections in Rajanpur to the price hike. However, talking about the economic situation, he said that Pakistan was "a country and not a public limited company which will vanish. Japan and other countries have defaulted in the past and default does not mean that the country is finished."
Responding a question about judiciary, the statement quoted him as saying that "the way we have to put the economy and other things on the right track, and also deal with the military mindset, we have to also deal with the judiciary."
The judiciary is composed of people who are part of society; earlier, they were lawyers and now have become judges, he said, adding that "we have to talk to them".