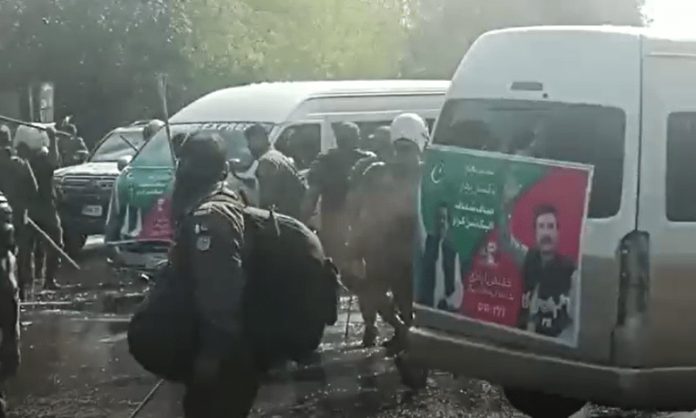 The Punjab Home Department on Wednesday banned "all kinds of protests, demonstrations and sit-ins" in Lahore for seven days, citing the "overall security situation" in the wake of recent "wave of terrorism and threat alerts".
A notification issued by the home ministry said the ban was imposed on "holding all kinds of assemblies, gatherings, sit-ins, rallies, processions, demonstrations, […] protests and such like other activities across the district Lahore to avert any untoward incident".
The prohibition — imposed under Section 144 (temporary orders in urgent cases of nuisance or apprehended danger) of the Code of Criminal Procedure — is to be in effect immediately.
It is pertinent to mention that the PTI had announced a rally in Lahore today, while an Aurat March is also set to being taken out.


PTI workers arrested for violating Section 144
Following the ban's imposition, scores of PTI workers were taken into police custody on Mall Road for violating Section 144. He further said that all roads leading to PTI Chairman Imran Khan's Zaman Park residence had been cordoned off.
The correspondent also said that water cannons were used in an effort to dispel PTI workers while police officials also smashed the windows of their cars.
The party's official Twitter account also shared footage of the same.
Sharing another video, it said their "peaceful workers" were being arrested.
PTI leader Fawad Chaudhry shared a video of a water cannon being used to dispel PTI rally participants.
The PTI chairman said that his party had launched its election campaign with hardly 55 days left for elections in Punjab and Khyber Pakhtunkhwa.
"Under what law and in brazen contempt of the Supreme Court, the Punjab caretaker government uses massive police violence against unarmed workers to stop our planned rally?" he asked.
"The only job of caretakers is to ensure fair and free elections. What they are doing is an assault on rule of law, our Constitution and democracy. Above all, once the Supreme Court ruling is defied, it is now law of the jungle," he said.
Additionally, PTI's Shireen Mazari said Lahore seemed to be "under covert martial law" with roads blocked, rallies — including the party's — blocked access and unarmed workers arrested, and sound systems taken away.
In an apparent reference to the Punjab caretaker chief minister, she said: "Crook Naqvi indulging in all fascist tactics."
Rana Sana defends Punjab govt's move to impose 144
Interior Minister Rana Sanaullah defended the Punjab government's decision to impose Section 144 in the provincial capital. Addressing a press conference in Islamabad, he said that three rallies were happening simultaneously: Aurat March, Jamaat-i-Islami's 'Haya March' and the PTI's march.
He said that all three demonstrations were taking place in the same vicinity. "In such a situation, any incident can take place," he said, adding that the Punjab government choose to impose Section 144 on the reports received from agencies.
The minister said that according to his knowledge, the PTI was asked to share the route for their rally with the authorities concerned which they failed to do. "On this basis, the Punjab government thought it appropriate to impose Section 144."
He further said that on one hand the PTI chief was claiming in court that he was 72-years-old, had a cast on one leg and was unable to walk but on the other he wanted to take out a rally. He told Imran to appear in court if he was well while also raising questions about the "relief" he was being given by the courts.
Referring to the Islamabad High Court's decision to suspend the arrest warrants registered against Imran till March 13, Sanaullah said that no more relief should be given to the PTI chief and he should be punished accordingly if he failed to appear in court yet again.
Rana Sanaullah wants bloodshed: Hammad
PTI leader Hammad Azhar castigated Punjab caretaker Chief Minister Mohsin Naqvi and those "dictating him" for "ending democracy" by not allowing any political activity in the city when elections are already scheduled for April 30.
Talking to the media outside Imran's Zaman Park residence in Lahore, he said that the "so-called unbiased caretaker government's only duty" was to conduct elections but it was banning any rallies and political activity, creating a hindrance in the election campaign.
Alleging that Interior Minister Rana Sanaullah and the incumbent government "wanted bloodshed" in the city, he directed the party workers to remain peaceful, refrain from any clashes and stay where they were.
In a tweet shortly after the talk, he shared a picture of three PTI workers who had allegedly been arrested today. "Is there a democracy right now or has it been suspended and just its announcement is awaited?" he asked.
Regarding the rally, he said the party was in contact with its legal team while PTI leader Musarrat Cheema — standing alongside Azhar — said the final decision would be taken once the PTI leadership had consulted Imran on the matter, and urged the party workers "to not give up till then".
Punjab govt asks PTI to take 'extra precautions'
Earlier in the day, the home department had asked PTI leaders in Lahore to take "extra precaution" in view of the party's scheduled rally, saying such public gatherings in the face of security threats are "not advisable".
The PTI was set to take out a rally from Zaman Park to Data Darbar where party chief Imran Khan along with other leaders were also expected to be in attendance.
The PTI, which was supposed to kick off its election campaign today, had decided to dedicate today's demonstration to the judiciary and postponed the launch of its canvassing drive until Saturday.
Though the rally was dedicated to "respect and dignity of the judiciary" which, according to the PTI, is under attack from political quarters, party insiders term it a "formal commencement of the election campaign",
The election campaign will now be initiated with a public rally at Sangla Hill, a town in central Punjab.
In a letter to the PTI's Dr Rashid, the home department had warned of security threats.
"The leadership of PTI including Chairman PTI is also expected to address the general public/ participants at different places during a rally in Lahore today. It is also expected that a large number of people are likely to attend the said rally."
According to the letter, "it is pertinent to mention here that given the current security situation of the country, public gatherings are not advisable. Furthermore, women march Is also going to be held In connection with International Women's Day" which is likely to draw a large number of participants."
The home department had said reactions from religious groups could not be ruled out in the wake of the women's day rally.
"Therefore, in view of aforementioned facts, it is reiterated that the organizers of PTI rally should take extra precautions and cooperate with LEAs to thwart any untoward incident," the letter had said.
On Tuesday, PTI leader Hammad Azhar had claimed that all arrangements for the rally were complete.
"[Wednesday's] rally would start from Zaman Park, travel along the canal, take a sharp turn at Muslim Town Mor, and march towards the tomb of Data Ali Hajveri before its culmination," he had informed the media at the party office.