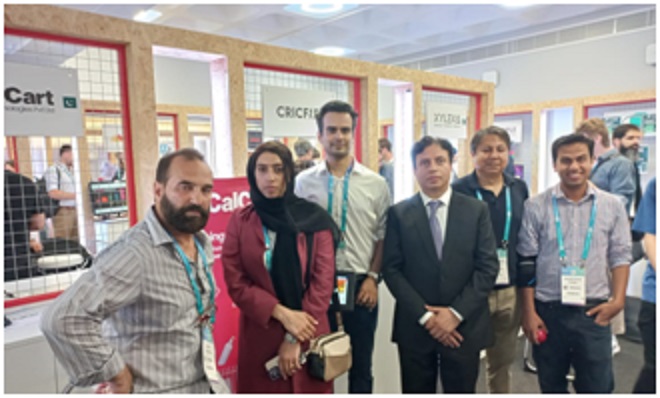 Islamabad, June 12, 2023.  London Tech Week 2023, a global celebration of tech, uniting the most innovative thinkers and talent of tomorrow in a week-long festival, is being held from 12th -16th June, 2023 at Queen Elizabeth II Centre in London. It brings together industry leaders, innovators, entrepreneurs, investors, and policymakers from around the world to explore the latest advancements and trends in technology.
Continuing with its tradition of powering Pakistan's startup ecosystem, Ignite National Technology Fund, a public sector company with Ministry of IT & Telecom, participates in London Tech Week 2023 showcasing six exciting startups from its different National Incubation Centers (NICs). NIC startups participating include Xylexa (NIC Islamabad), CricFlex (NIC Islamabad), EyeSmarty (NIC Peshawar), CalCart Technologies (NIC Islamabad), Gridizen (NIC Karachi), and SLOSH AI Solutions (NIC Islamabad). Pakistan's High Commissioner in UK, Mr. Moazzam Ahmad Khan, met Pakistani startups at the event and appreciated their work and passion to generate new leads for sales and investments in future.
Xylexa (www.xylexa.ai) has an Artificial Intelligence (AI) powered algorithms which assists radiologists with accurate, timely & cost-effective medical image interpretation & diagnosis for their patients. CricFlex (www.cricflex.com) has a wearable sleeve for performance analysis of bowlers in cricket. It tracks arm angles, force, speed, spin, action time, run-up speed, distance & time to provide feedback on improving performance. EyeSmarty (www.eyesmarty.com) is an AI based platform to monitor and evaluate employee productivity and performance, offering an unmatched tool for in-depth work record analysis. CalCart Technologies (www.cal-cart.com) is an AI powered smart cart product bringing the best of online shopping to brick-and-mortar grocery stores. Calcart has recently signed a pilot test with a major global supermarket chain. Gridizen (www.gridizen.co.uk) is a SAAS based end-to-end property management solution helping housing associations, property managers, agents and landlords manage their properties. It is also the only ESG report provider for properties in the UK. SLOSH AI Solutions (www.slosh.ai) is an AI powered tele-radiology solution to help in triaging the chest x-rays between normal and abnormal.
Asim Shahryar Husain, CEO Ignite said, "Over the last two years, Pakistani startups have raised investments of $733 million. Considering that Pakistani startups have raised more than $800 million over the last 5 years against average equity of 25%, the total valuation of Pakistani startups is estimated to be around $3.2 billion at present which is expected to reach $10 billion by 2030 or earlier. The upward trajectory of foreign investments in Pakistani startups during 2021 to 2022 is a testament to interest of foreign investors in our startups. Two founders of Pakistani startups, Bioniks (healthtech) and Kalpay (fintech), made it to the Forbes 30 under 30 Asia list this year which reflects the young entrepreneurial talent of Pakistan. Events like Londontech Week provide an opportunity to startups to showcase their products to find partners, customers, and investors."
London Tech Week is a hub for innovative innovation and visions of future tech frontiers. UK entrepreneurship, enterprise solutions, and inclusion are the mainstays. It covers various sectors within the technology industry, including artificial intelligence, cybersecurity, fintech, health tech, digital transformation, smart cities, and more. The event is very valuable for Ignite's NIC startups and serves as a platform to connect, collaborate, and explore new business opportunities globally to find partners, customers, and investors.