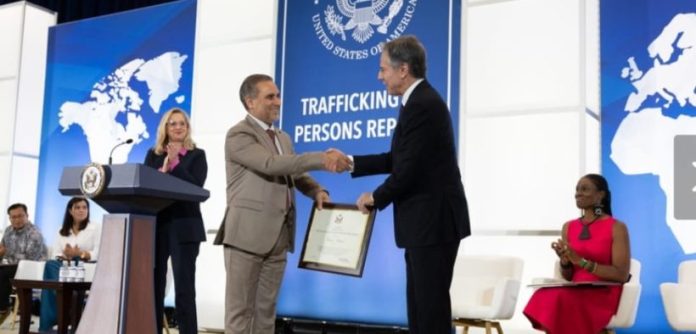 Zaheer Ahmed, a Pakistani law enforcement officer whose efforts in guiding the government of Pakistan to implement anti-trafficking in persons law and reforms, leadership in capacity building, and training initiatives that were instrumental in Pakistan's promotion from TIP Tier 2 watchlist to Tier 2 in 2022, has been honored with the prestigious Trafficking in Persons Report Heroes Award. This annual award is an opportunity to garner local and international attention to and support for the work awardees seek to advance in the fight against human trafficking.
Zaheer Ahmed the former director of Federal Investigation Agency's anti-human smuggling (AHS) unit was passionate in anti-human trafficking efforts and has made a significant impact in raising awareness about this global issue. His unwavering commitment and innovative approach Increased consultation, recognition, and collaboration with civil society on trafficking.
As the director of the FIA "the lead agency in Pakistan on anti-human trafficking" Zaheer Ahmed has been at the forefront of numerous initiatives aimed at capacity building of law enforcement agencies, social welfare, and labor departments on preventing, identifying, and assisting on anti-human trafficking. The FIA worked efficiently to train law enforcement agencies, social welfare, and labor departments and collaborated with government entities to eradicate this modern-day form of slavery.
Zaheer Ahmed's efforts extend beyond his organization, as he actively engages with local and international advocacy groups to form strategic partnerships and foster a united front against human trafficking. His hard work has played a pivotal role in influencing policy reforms and strengthening legal frameworks by successfully advocate the Pakistani government to ratify the UN Protocol to Prevent, Suppress, and Punish Trafficking in Persons in 2022.
The Trafficking in Persons Report Heroes Award acknowledges the exceptional efforts of individuals like Zaheer Ahmed, whose dedication and determination inspire other officers to act. His unwavering commitment to the cause has earned him the respect and admiration of his peers.
Upon receiving the award, Zaheer Ahmed expressed his gratitude and dedicated the recognition to all the colleagues he has worked with, stating, "This award is a testament to the resilience and strength of the teamwork. I am humbled and honored to receive this recognition, and I will continue to fight alongside my peers until human trafficking is eradicated from our world."
The Trafficking in Persons Report Heroes Award serves as a reminder that the fight against human trafficking requires collective action, and officers like Zaheer Ahmed serve as beacons of hope in this ongoing struggle.
About Zaheer Ahmed
Zaheer Ahmed is a deputy inspector general of police who is currently serving in Azad Jammu and Kashmir (AJK) Poonch Region of Pakistan, and a former director of Federal Investigative Agency's Anti-Human Smuggling (AHS) unit. "He has passion to help in efforts towards combating human trafficking, raising awareness, and trafficking victims support. His dedicated efforts have earned him recognition and respect within the anti-trafficking community and beyond.