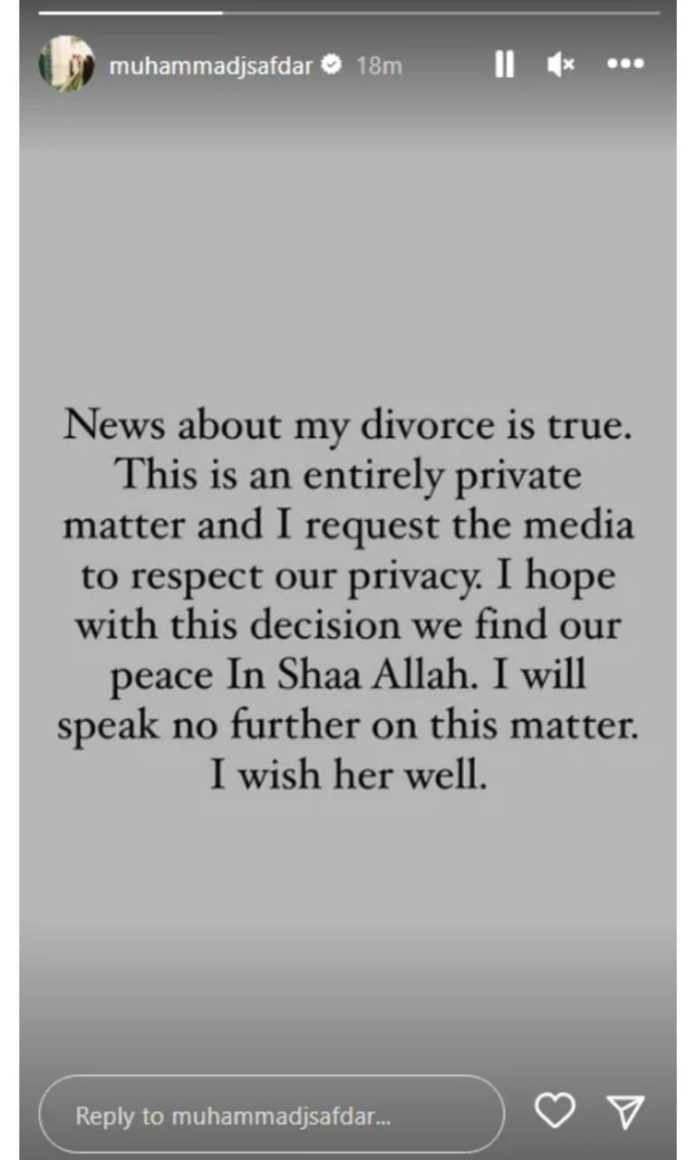 Pakistan Muslim League-Nawaz (PML-N) Vice President and Chief Organiser Maryam Nawaz's son, Junaid Safdar, confirmed Thursday that he and his wife had divorced, more than a year after they tied the knot.
"News about my divorce is true," Safdar said in an Instagram story.
The couple got married on August 22, with their wedding functions taking place in London and Pakistan, since PML-N supremo Nawaz Sharif was in the British capital in self-exile.
The couple stayed away from the media spotlight during their time together.
This is an entirely private matter and I request the media to respect our privacy," the seasoned politician's son said in the story.
"I hope with this decision we find our peace In Shaa Allah. I will speak no further on this matter."
"I wish her well," Junaid added.
Soon after the announcement, Junaid removed all his pictures with his former wife on Instagram.
Who is Ayesha?
Ayesha is the daughter of Saif ur Rehman Khan, the former head of the National Accountability Bureau (NAB) and a multi-millionaire businessman based in Qatar with business interests in Pakistan, Qatar, and Middle Eastern countries.
Ayesha was born and raised in Qatar where she attended the British primary and secondary schools, passing O and A levels with distinction. For her higher education, she moved to London where she was given a place at the renowned University College London (UCL). She graduated with a BEng in Civil Engineering.
She was a Director at Redco International, the largest industrial and contracting group operating in Qatar since 1981, with a workforce of 20,000 employees and engineers.
Her hobbies include reading, horse riding, interior decoration, and history and she enjoys hiking and appreciates nature and travelling, according to one of the mentions on her profiles.