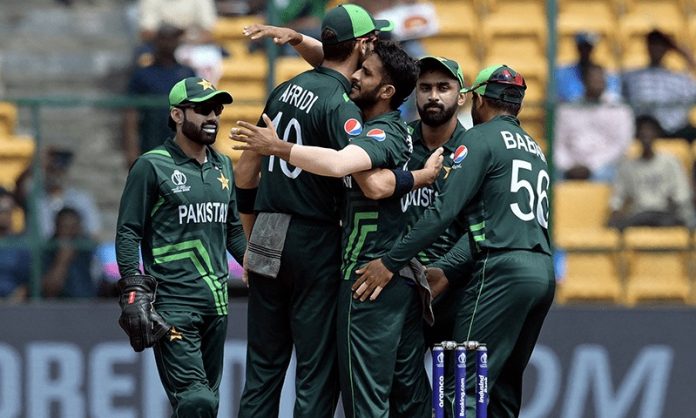 In the crucial match of the ICC World Cup 2023, New Zealand easily defeated Sri Lanka by 5 wickets to reach the semi-finals. Pakistan's access to the semi-finals has become difficult.
Pakistan's last match in the World Cup is against England on November 11.
Pakistan will have to win against England by a big margin to reach the semi-finals and England will have to achieve the target in just 3.4 overs. To reach the semi-finals, Pakistan will have to win by a margin of 287 runs. If Pakistan scores 300 runs by batting first, then England will have to be dismissed for 13. If England bat first and assuming England score 150 runs, Pakistan will have to achieve this target in 3.4 overs.
New Zealand won the toss and invited Sri Lanka to bat first in the 41st match of the World Cup 2023 played at the M. Chinnaswamy Cricket Stadium in Bengaluru and the decision seems to be right. New Zealand's Tim Southee bowled opener Pathum Nissanka for 2 runs in the second over. Sri Lankan skipper Kaushal Mendes also failed to guide Trent Boult to the pavilion for 30, adding just 6 runs. In the same over, Boult also targeted Sudira Samarawickrama, he made a run and caught Mitchell, on this occasion the Islanders had lost 3 players for 32 runs in the fifth over. At the other end, Perera continued to bat aggressively and combined with Isalinka to take the score to 70 runs, before the partnership posed a threat for the Kiwis, with Trent Boult having Isalinka lbw. Trent Boult's good length ball hits the batter's pads, the Kiwi bowler makes a strong appeal, but the umpire shakes his head, captain Williamson takes a review and the replay shows the ball hitting straight wickets, thus The third umpire declared Isalenka out. In the very next over, Ferguson had the dangerous-looking batsman Perera caught by Mitchell Santner, who scored 51 runs off 28 balls with 2 sixes and 9 fours.
Mathews, who was timed out in the previous match, along with Dhananjaya de Silva took the score to 104, but the all-rounder also failed to perform well and fell victim to Mitchell Santner for 16 runs. On this occasion, in the 17th over, 6 players had returned to the pavilion for Sri Lanka's 104 runs. Sri Lanka suffered its eighth loss in the form of Dushantha Chimera, who scored 6 runs and fell victim to Ferguson, thus the Islanders scored 113 runs in 25 overs while 8 of their players were dismissed. Dushmantha Chimera scored a run off 20 balls but supported Thekshana to a score of 128 and was caught by Bolt off Ravindra's delivery. Sri Lanka's last wicket resisted and batted to 47 overs from the 33rd over, during which the run rate was slow but Mahesh Thikshana and Dilshan Madhushanka did their best to complete the 50 overs of the innings. On the other hand, Ravindra once again gave New Zealand a wicket and with the help of two fours off 48 balls, Madhushanka was dismissed by wicketkeeper Tom Latham to wrap up the Sri Lankan batting line. The Sri Lankan team was bowled out for 171 runs on the fourth ball of the 47th over. Mahesh Thekshana remained unbeaten on 38 off 91 balls with the help of 3 fours. New Zealand's Trent Boult bowled 3 overs in 10 overs and conceded only 37 runs, similarly Lockie Ferguson, Mitchell Santner, Rachin Ravindra took 2, 2 wickets with 35, 22 and 21 runs respectively. In reply, the New Zealand openers provided a brilliant start of 86 runs in 12 overs. Dion Conway faced 42 balls with 9 fours and Chimera was bowled for 45, New Zealand's first wicket. Opener Rachin Ravindra also couldn't stay on the wicket for long and after adding just two runs to the total fell prey to Thekshana, he scored 42 runs off 34 balls with the help of 3 fours and 3 sixes. In the previous match, the Kiwi captain, who showed a brilliant batting performance against Pakistan, was limited to only 14 runs in 15 balls and when he was dismissed from the crease on the second ball of the 19th over, the team's score was 130 runs. Samaravikrama and Mathews ran out Mark Chapman for 145 to give Sri Lanka their fourth wicket, Chapman having scored just 7 runs. Darryl Mitchell batted fast in pursuit of the target and scored 43 runs off 31 balls with the help of 5 fours and two sixes and the score was 162 in the 23rd over when Mathews was dismissed. Glenn Phillipsh and Tom Latham did not allow any more wickets to fall and scored 72 runs off the second ball of the 24th over to give the team a 5-wicket win and ease into the semi-finals. Phillips remained unbeaten on 17 and Latham on 2. Trent Boult was adjudged man of the match for his good bowling. With this win, New Zealand has made it difficult for Pakistan and Afghanistan to reach the semi-finals and easy for New Zealand. Both teams will have to win their next match with a big margin.
Keep in mind that New Zealand, runners-up in the last two World Cup editions, are currently fourth on the points table and need a win against Sri Lanka to book a place in the semi-finals, level on points with Afghanistan and Pakistan. India, South Africa and Australia have already qualified for the semi-finals. Similarly, in 2019 too, New Zealand had to struggle to make it to the semi-finals and managed to reach the final.
Both teams for the match consisted of these players: New Zealand: Kane Williamson (captain) Tom Latham, Dion Conway, Rachin Ravindra, Daryl Mitchell, Glenn Phillips, James Neesham, Mitchell Santner, Lockie Ferguson, Tim Southee, Trent Boult
Sri Lanka: Kaushal Mendis (captain), Patham Nissanka, Sudira Samarawickrama, Charith Asalanka, Angelo Mathews, Mahesh Thikeshana, Chamika Karunaratne, Dilshan Madhushanka, Dushmanatha Chamera, Dhananjaya De Silva and Kosal Perera.