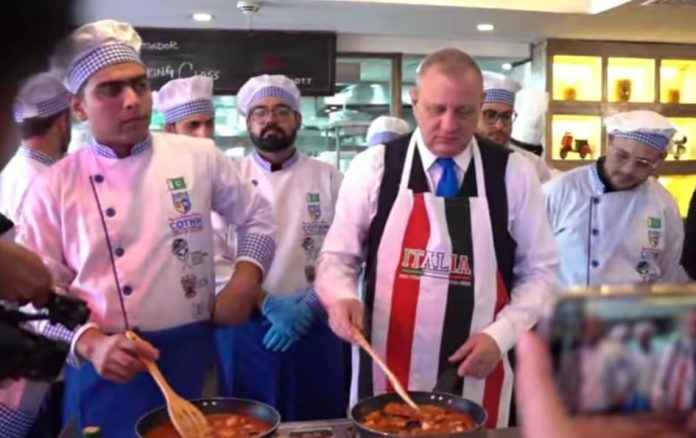 Islamabad – 14 November 2023 (Adnan Hameed): The Embassy of Italy in Pakistan recently marked the vibrant 'Italian Cuisine Week' with two exceptional events, graciously hosted by Ambassador Andreas Ferrarese and his wife, Albana Ferrarese.
During the evening affair, Ambassador Ferrarese formally petitioned UNESCO to acknowledge and designate Italian culinary traditions as intangible heritage. In his address, he illuminated Italy's profound influence on both local and global gastronomy, citing the approximately 50 million people of Italian origin scattered across the world who actively contribute to the dissemination of Italian cuisine. The Ambassador underscored the global recognition of quintessential Italian dishes such as pizza and pasta, emblematic of the nation's rich gastronomic heritage.
Ambassador Ferrarese engaged in a thoughtful discourse on the dynamic exchange and evolution of culinary traditions, spotlighting the fusion of traditional Italian practices with influences from immigrant communities, notably the impact of Albanian immigration. He shared insights into ongoing initiatives aimed at globalizing Italian culinary activities, exemplifying a collaborative project in Pakistan funded by an Italian agency for collaboration and development, with a primary focus on olive oil production.
Highlighting the potential of culinary projects to act as cultural bridges and catalysts for economic development, Ambassador Ferrarese expressed optimism about the enduring impact of Italian culinary traditions on the global stage. As Italy earnestly seeks UNESCO recognition, he affirmed the nation's commitment to preserving and promoting its rich culinary legacy.