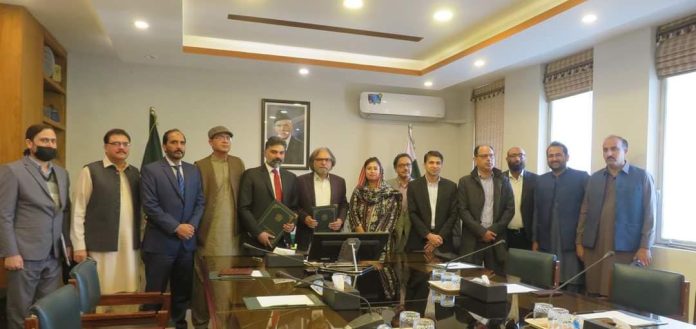 "National Endowment Scholarship for Talent (NEST) and MCB Islamic Bank Unite to
Propel BSN Nursing Scholarships in Pakistan"
Islamabad, November 15th, 2023
In a momentous ceremony held at the Ministry of Federal Education
and Professional Training, a groundbreaking partnership has been forged between the National Endowment
Scholarship for Talent (NEST), operating under the Ministry of Federal Education & Professional Training,
Government of Pakistan, and MCB Islamic Bank.
Distinguished participants from the Ministry and NEST included Mr. Waseem Ajmal Chaudhry, CEO –
NEST / Federal Secretary Education; Syeda Hajra Suhail, GM – NEST; Mr. Hameed Khan Niazi, CFO –
NEST; Mr. Malick Mazahr Awan, AM P&C; Mr. Majeed Asif, AM V&D; Mr. Zahid Awan, AM Finance;
Mr. Waleed Bin Mushtaq, Communication Officer; and other esteemed members. Representing MCB
Islamic Bank were Muhammad Ibrahim, General Manager; Malik Tahir, Regional Head; and Salahuddin,
Area Manager.
The bedrock of this collaboration is a Letter of Understanding signed by Secretary FE&PT, Mr. Waseem
Ajmal Chaudhry, and Muhammad Ibrahim General Manager MCB Islamic Bank. The collaboration's
primary objective is to advance education in the field of Nursing and contribute to poverty eradication
through Nesting Education.
MCB Islamic Bank commits to making annual charitable donations to NEST to support deserving Nursing
students throughout their degree programs. In return, NEST pledges complete transparency in the allocation
of funds, offering detailed insights into beneficiary selection and fund utilization. This collaboration aspires
to empower aspiring Nursing professionals, fostering educational growth and socio-economic development
across Pakistan.
Both NEST and MCB Islamic Bank express their fervor for this noble cause and anticipate that this
partnership will significantly contribute to the enhancement of education and the upliftment of deserving
students pursuing Nursing degrees in Pakistan. This alliance marks a milestone in the joint efforts of NEST
and MCB Islamic Bank to strengthen educational opportunities, exemplifying their commitment to the
welfare and progress of the nation.