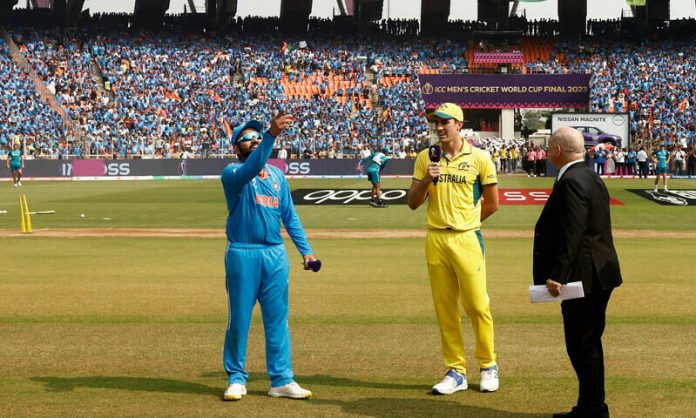 Australia defeated India by 6 wickets in the final of the World Cup and became the world champion for the sixth time. A century by Australian batsman Travis Head and a half-century by Marence Labushin gave India their first taste of defeat in the event. When Australia started chasing the target, the Indian bowlers gave their team success. After scoring 7 runs, opener David Warner was caught out for 16 off Mohammad Shami, while Mitchell March, who scored 15 runs for 41, was caught out. Australia suffered their third loss on 47 runs when Jasprit Bumrah dismissed Steve Smith lbw. Smith scored 4 runs. For the fourth wicket, openers Travis Head and Marence Labushin put on a brilliant batting performance under pressure to take victory away from India. Both made a partnership of 192 runs. Travis Head completed his century off 95 balls. He hit 14 fours and one six to reach his century.
Travis Head played an innings of 137 runs and was caught just 2 runs away from victory, hitting 15 fours and 4 sixes in his innings. In the end, Glenn Maxwell took the winning run to win his team the World Cup for the sixth time. In this match being played at the Narendra Modi Stadium in Ahmedabad, the Indian team was all out by scoring 240 runs in the last over. Australia won the toss against India and decided to bowl first, after which the Indian pair of Rohit Sharma and Shubman Gill opened the innings. The Indian openers tried to bat fast to give the team a good start, but Australian bowler Mitchell Starc took India's first wicket for 30 runs in 4.2 overs of the innings. He had Shubman Gill caught out by Adam Zampa for just 4 runs. Later, Virat Kohli came to the crease and even after that both the batsmen continued to bat with a high run rate, but while trying to play another high shot, captain Rohit Sharma got out. Rohit Sharma was caught out for 47 off Glenn Maxwell for 76 in 9.4 overs of the innings. The Australian bowlers continued to strengthen their grip on the match and took the wicket of Shreyas Iyer in the very next over. On 81 runs in 10.2 overs of the innings, Shreyas Iyer was caught behind the wicket by captain Pete Cummins for 4 runs. On the fourth wicket, Virat Kohli and KL Rahul batted cautiously due to the brilliant bowling and fielding of the Australian bowlers but managed to form a partnership. Meanwhile, both the batsmen failed to hit boundaries for a long time and there was an occasion in this partnership where both the batsmen could not hit a boundary for 97 balls. A partnership of 67 runs was made between the two, but in the 28th over, Australian captain Pat Cummins bowled Virat Kohli, who scored 54 runs for a total of 148. On one hand, the Australian bowlers continued to try to take wickets, but on the other hand, Indian batsman Lokesh Rahul also continued to score runs. KL Rahul first put on a partnership of 30 runs with Ravindra Jadeja, who scored 9 runs for the fifth wicket, and then a partnership of 25 runs with Surya Kumar Yadav for the sixth wicket to take his team past the 200 mark. However, Rahul got out after playing an innings of 66 runs off 107 balls for a total of 203. Surya Kumar Yadav added 18 runs to the team's score. In the closing moments, with 6 runs from Mohammad Shami, 1 from Jasprit Bumrah, 10 from Kuldeep Yadav and 9 from Mohammad Siraj, the Indian team was bowled out for 240 runs in the allotted 50 overs. For Australia, Mitchell Starc took 3, Josh Hazlewood and Pat Cummins took two each, while Glenn Maxwell and Adam Zampa took one each.

In the ongoing World Cup final match between Australia and India, a man wearing a Palestinian flag shirt entered the ground and hugged Virat Kohli.
ICC has announced a total prize money of one crore dollars for the World Cup.
A prize money of 4 million dollars has been announced for the winning Australian team while the losing team will get 2 million dollars.
It should be noted that the Indian team was playing the World Cup final for the fourth time. India won the World Cup in 1983 and 2011, while Australia has won the World Cup a record 5 times. The 2003 World Cup final was held between the two teams, which Australia won easily. Both teams for the final consisted of these players:
India: Rohit Sharma (captain), Shibman Gill, Virat Kohli, Shreyas Iyer, KL Rahul, Suryakumar Yadav, Ravindra Jadeja, Mohammad Shami, Jasprit Bumrah, Kuldeep Yadav, Mohammad Siraj.
Australia: Pat Cummins (captain), Travis Head, David Warner, Mitchell Marsh, Marence Labuchin, Josh Ingles, Steven Smith, Glenn Maxwell, Mitchell Starc, Adam Zampa, Josh Hazlewood