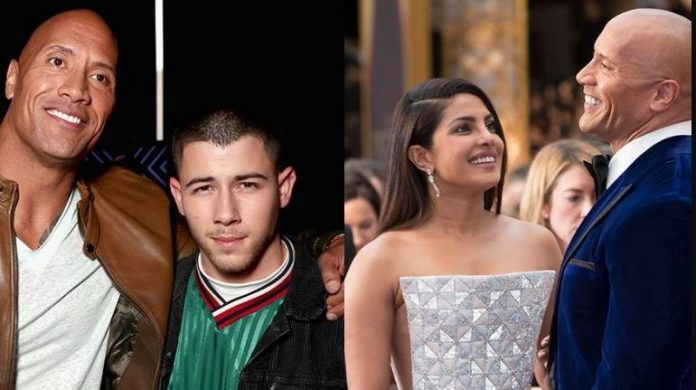 Los Angeles, July 10 (TNS): US media finally found the cupid behind Priyanka Chopra, Nick Jonas' alleged relationship.
Actor-producer Dwayne Johnson has joked about being the one responsible for bringing together his Baywatch co-star, Priyanka and the Chains singer.
Johnson, also known as 'The Rock', has quipped he was secretly the matchmaker behind the budding romance, reported ET Online. Asked about the highly talked about relationship, Johnson first replied with a question, "Are they happy?"
After learning that the couple seems to be doing well, The Rock cordially confirmed his role in bringing his former co-stars together. "I did it, yes. If they're happy. Well then, I take credit. Baywatch and Jumanji," he added.
Priyanka, 35, and Jonas, 25, were reportedly spotted wearing matching gold rings. They even spent a day together on July 4 which was preceded by a vacation in India.
And seems like Nick is smitten with the former Miss World!
"Nick is super into Priyanka," one source told US Weekly. "But he isn't the type to rush into an engagement. It wouldn't be surprising if they eventually get engaged, but he's not the type to propose right away."