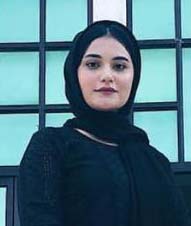 Mahinoor Akbar, @yourpukhtanactivist
mahikhanishere@gmail.com
The motorway incident has startled every single person in this country with making its away to every tongue belonging to people of all ages, cultures or backgrounds as a topic to be discussed in every lane, office, home or expanse. The horrifying incident has yet again shook the ground beneath us and made the crowd come out on the road, yelling at the top of their lungs, demanding justice for the victim and her children. Every eye is brimming over with sorrow, rage and inexplicable emotions which is a plausible expectation keeping in picture how this incident chancedbut is the mere discussion of griefenough for the preparators to be given adequatepunishment or for rape culture to be dismantled?Those are the questions to be queried after knowing the ugly and indigestible truth of the motorway incident.


After procuring education from France, the victim tied the knot in the same country to her husband who belonged to Gujranwala, Pakistan. Herhusband was settled in France and the victim, along with her children were dwelling in Gujranwala at the time of the incident. On 8th of September 2020, the victim took her childrenfor shopping to Lahore where her maternal home existed. On her way back, the victim's mother attempted to persuade her into staying the night but due to aggravated tensions between her maternal home and in laws, she marked that it is in their best interest to recede to Gujranwala as her husband would be agitated.Thetrip from Lahore to Gujranwala was solely 40 minutes and she had been traveling back and forth in past. Assuming that no problem would occur, she embarked on her journey with her three children dozed off comfortably in car. At 12:30 am, she left Lahore, rolled up at the motorway and drove towards Gujranwala. Around 1:05 am, she arrived at Lahore-Sialkot motorway and as soon as she reachedthe link road, her car ran out of fuel and left her with only darkness looming over the road. With fear plunging on her chest, she looked over the backseat where her children were sound asleep. Without risking any delay, shecalled Sardar Shehzad, her cousin and asked for helpwhen heinstructed her to call 130 and inform the motorway police while reassuring her that he is on his way to rescue.
After hanging up the call, she called the motorway police where she was informed that she is at M11 link road and that this link road is not covered by motorway police. The police officer delivered her a local number and asked her to contact the relevantauthorities here. She called on that number and renarrated the grave situation she was in. The Lahore-Sialkot motorway was effectuated in March 2020 and for its safety a special force was given the task by Punjab government. The special force was supposed to be lead by Commissionerof Lahore and not motorway police. Due to incompetence of institutions, this special force was not active and the Lahore-Sialkot motorway was left unsupervised. This motorway was neighbored by three villages and its loafers often conducted robberies on this motorway, some of which also had been reported. The victim looking out for her children's safety, locked her children inside the car and waited impatiently for the police and her cousin to arrive.
Two hours passed by which felt like an eternity and no one could be discovered.Concurrently, two men turned up at the spot and started ogling her with desperation. When no one came near the car or to rescue the victim and her children, they jumped over the opportunity to loot them. Both of the goons had one weapon each and threatened her to open the car's door to which she refused to do so. On getting the wind of her refusal, they splintered the car's window and her children screecheduncontrollably, clutchingat hope helplessly. Frightened, the victim sprinted towards the road to look for any God sent help. One of the goon followed her and while they were scurrying over the road, a man in his over speeding car saw the victim gasping for help. He called 15 and informed the police. Meanwhile, the other goon took out the victim's two year old child and hastened towards the jungle. With the profound fear of losing her child, the victim returned to the car and the first goon came back towards her, taking out her other two children out of the car forcefully. Trepidation lurking over her tensed body, she started begging the goons in a berserk manner to spare her and her children's lives. In utter delirious response, she asked her children to recite the Qalma and ask Allah for help. The barbaric goons however, did not listen to her any crying and dragged the four of them towards the jungle, skimming across the surface of dark mulch.One of the goonsdashed her children on one side, held the weapon on their heads and the other started exploiting the victim's body with the force of an unbridled psychosis. The goon began hitting her children when she was putting a fight and not giving in. Motherpetrified for her children's lives, became feeble and the goon raped her taking his ample time, not rushing and did as much as he wished.
Later, the goons traversed back to the victim's car, took out her jewelry and ATM card, threatened her shamelessly that if she dare comes back on the road, they would kill her and her children mercilessly. While the goons stayed on the road to keep an eye, two motorcycles arrived near the car and the goons disappeared in darkness. These two motorcycles belonged to Dolphin Force. They arrived at the scene and caught the sight of the scattered window pieces with blood spattered on the car. Theynoticed a child's shoe towards the side of road, grasped that something exceptionally wrong had occurred and stepped towards the jungle. Hoping to get a glimpse of someone safe and sound, they screamed, "Is anyone there?" but to their disappointment, no response echoed back. One of the officer shot gun in the air too but there was no cry for help that could reach his ears.After going deeper towards the jungle, they heard a woman hysterically crying and uttering, "Please for God's sake, don't hurt me or my children". The officers scooted off andfollowed her voice only to discover something that was an unimaginable nightmare. Ravished inhumanely, a mother was sitting at the edge of a field, her clothes torn apart, her children clutching onto her chest for protection, all of them surfaced as if their lives had been completely changed in a matter of few hours.
The police officers tried to console the victim but she wasin deep hysteria and an unparalleled shock, repeating her words and begging them for mercy not to harm her or her children. The officers stared at themconspicuously, in agony as the children stared at the torch light held in one of the officer's hand with their paralyzed hearts, not blinking even once, as if they had forgotten how to feel or perceive life. The police officers straight away informed the relevant authorities and the female SHO arrived at the crime scene. The victim along with her children was rushed to a hospital. The victim's cousin had also arrived and after conducting medical test, she was sent to her home with her children. It has been more than ten days for the bustling world but for the mother, it has never been the same. The time has stoppedabsolutely. She sits in her bathroom as she splashes cold water on her defaced body, rubs her skin savagely, hoping that it would purge her of society's filth. Her children on the other hand, on sight of any stranger, start screaming wildly and beg to not hurt their mother.
Shafqtat, one of the perpetrators has been identified by the victim and his DNA has been matched. The second but main perpetrator,AbidMalhi, a serial rapist and goon has more than 9 cases reported in the region but because of his unduly support by influencing entities, he remains at large. The victim however, has been offered hollow words to which she does not even flinch. But there are many questions that need to be asked, most of them to do with this systematic rape culture that seems nowhere to end. The cruel rape culture that runs deep in our veins like a plague and engulfs all with its might. How does this society survive as a responsible entity to its victims of rape and sexual exploitations? Who would be willing to answer questions regarding daily abuse that women go through in this country? Who would ensure that the perpetrators are found, arrested, prosecuted and punished? More importantly, who would assure the citizens that the big gangs behind these planned crimes would finally get off support?
To the nation I ask, why is silence the preferred option when your daughter tells you about her rape or sexual harassment incident? Who will have the courage to talk about the fact that this exploitation does not just go unnoticed but is rarely condemned because apparently it is more important for this nation to scrutinize women participating in Aurat March who chant "MeraJism Meri Marzi" which is merely reclaiming the autonomy of their own bodies, demanding protection from the abuse and violation done to their bodies on a daily basis in this country. Is our society ready to go to lengths to have these uncomfortable discussionswhere it has to be revealed that rape culture is a product of patriarchy, sexual objectification, chosen or unchosen silence surrounding these issues, disregarding the women's struggle for equal economic place, the insecure needs to dominate women just to feel a sense of superiority and satisfying fragile masculinities. Are our walls ready to be dammed with the truth that feigned support from progressive men despite these arising cases that have already touched the sky has just resulted in no protection for a girl walking on this ground?
The demand of Public Hanging has gone trending after this motorway incidentwhich shows clearly our country's response to quickly attain an instant solution but is the nation aware that Public hanging by research, has never proved to be effective in reducing the crime rate. There is no statistical evidence that such hangings reduce or even prevent criminals from doing their filthy work. Short term solutions only aid the public anger and considerably reduces the reporting of sexual assaultwhich is already very less in our country.i.e. 1.7%. . Public hanging will reduce the chances of these cases getting reportedbecause majority of cases involve family members andacquaintances. Public hanging takes away the attention from the ineffective justice system,misogynicthought processes, the stigmas and superstitions surrounding issues pertinent to women's safety and well being, the development of our already loophole-filled laws of women protection and the institutions responsible for ensuring adequate implementation of pro women policies. The perpetrator of 7 year old Zainab was also hanged to death but has that sentence and response been effectual in reducing the crime rate of children's sexual exploitation? The answer is obviously no. Rapists like Imran Ali believe that their salvation lies in atonement by doing social work and upright deeds that would take the burden of their atrocious crimes. Rapists like him and the group of boys passing rape jokes affect the society in the same way, only the intensity varies.
Thesignificance and the memory of this incident will fade as soon another heart-wrenching incident takes place. It will be a long time after when this society actually sits down to address these issues properly. The real truthis that we are the ones responsible for the condition of this victim and her three children. We are responsible for Zainab, Marwah, Faizan, Kainatand uncountable other victims of sexual exploitation and abuse. Because we are primed to publicly hang the rapist to appease our perception of justice but we are not ready to work hard and challenge this systematic rape culture governed by patriarchy. Should women have no expectation of safety in public spaces and expect only to scrutinized and blamed for the abuse done to them?The sexual harassments or rape happening in every corner, home, lane or office is a direct product of our incompetence as a state, avoidance to address these issues as nation, societal attitudes towards women and irresponsibility of every entity on this ground. Are we ready to take this responsibility or more necessarily, are we prepared to face this real truth?