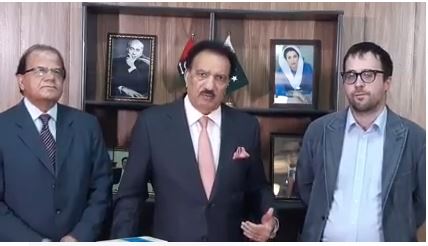 Islamabad: April 05, 2021 (TNS): Chairman Institute of Research and Reforms (IRR) Senator A. Rehman Malik and Director National Association of Italy Prof. Luca Colussi today on Monday signed Memorandum of Understanding (MoU) on cooperation in the fields of the fight against illegal immigration and human trafficking. In their meeting, both discussed in detail the issue of growing illegal immigration from Pakistan to various European countries particularly Italy. Both the parties agreed that the Institute of Research and Reforms (IRR) will make a research paper on the issue based on the vast expertise and experience of its Chairman A. Rehman Malik.
Senator Rehman Malik said that the common goal of both organizations is to prevent human trafficking and illegal immigration and to work on the causes behind illegal immigration. He said that illegal Pakistani immigrants are facing various difficulties in different countries of Europe and many of them are detained in detention centers. He said that young Pakistanis go to Europe through illegal routes after being lured by human traffickers and during their traveling they not only face difficulties but so far thousands of Pakistanis have lost their lives. He urged the government that it is the need of the hour to end human trafficking and take stern legal action against those who are involved in this heinous crime. He said that illegal immigrants are bringing bad name to the country also. He asked the government to bring back those Pakistani youth stranded, trapped, and detained in different countries
Former Interior Minister recorded a special message in the name of Pakistani youth and urged them not to waste their lives in greed and not be lured by these agents who are playing with their lives. He thanked Prof. Luca Colussi for taking care of Pakistani immigrants in Italy. He also presented him with a set of his books.
Prof. Luca Colussi said, "I am thankful to Rehman Malik for assuring his full cooperation on this highly important matter of human rights".