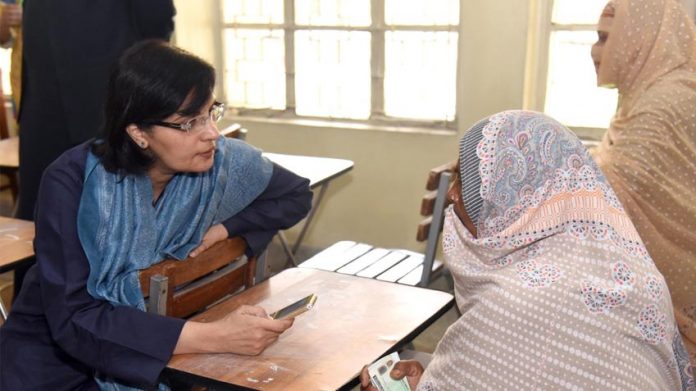 Islamabad: April 15, 2020 (TNS): Special Assistant on Poverty Alleviation and Social Protection Sania Nishtar visited an Ehsaas Payment Center in Islamabad today (Wednesday) and reviewed the arrangements made there to provide cash assistance to the deserving families under Ehsaas Cash Emergency Programme.
The Special Assistant also interacted with the deserving women and listened to their problems.
Talking to the media on the occasion, Sania Nishtar said the payment of cash assistance of twelve thousand rupees has been started today for those families who are not beneficiary of Ehsaas Kafalat Program. She said under this category, 1.8 million rupees have so far been provided to the banks. The process of payment for this category has been started from women whilst the men will also soon receive the messages to get the relief assistance.
The Special Assistant said transparency has been ensured in the program and rules and regulations are strictly being followed.
She said the deserving families can send their CNICs on 8171 by 19th of this month to get the cash assistance. She said those who have no mobile phones can register themselves through the district administration.
The Special Assistant said the cabinet has approved waiver of twenty four percent advance income tax on commission of branchless banking retailers to incentivize them to work with Ehsaas Emergency Cash program. She was confident that the provinces will also waive off the sixteen percent GST on services on the same commission to further incentivize them.