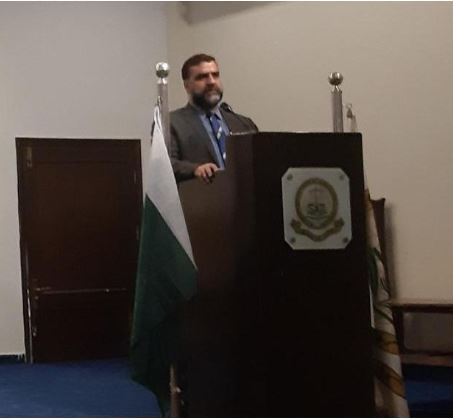 Karachi: Feb 24, 2020 (TNS): Prominent Kashmiri Hurriyat Leader Altaf Ahmed Bhat and President Tehreek-e-Kashmir UK Raja Fahim Kayani expressed these views while addressing Kashmir Seminar here at Karachi Bar council, Karachi today.


On the occasion, President Karachi Bar Advocate Munir Malik, Joint Secretary Nadeem Mangi, Sardar Azeem, Advocate Sardar Saghir, Shafiq Butt, Aqeel Tareen, Naseer Abbasi Advocate, Naib Ameer Jamaat Islami Azad Kashmir Raja Jahangir were also present.
President Karachi Bar Munir Malik said that Pakistan mourns whenever Kashmir bleeds. Altaf Ahmed Bhat and Fahim Kayani did practical struggles for Kashmir cause, Bhat fought with Indian brutal forces, and Fahim Kayani raised voice of besieged Kashmiris in UK and Europe through protests, demonstrations and Kashmir conferences at British Parliament.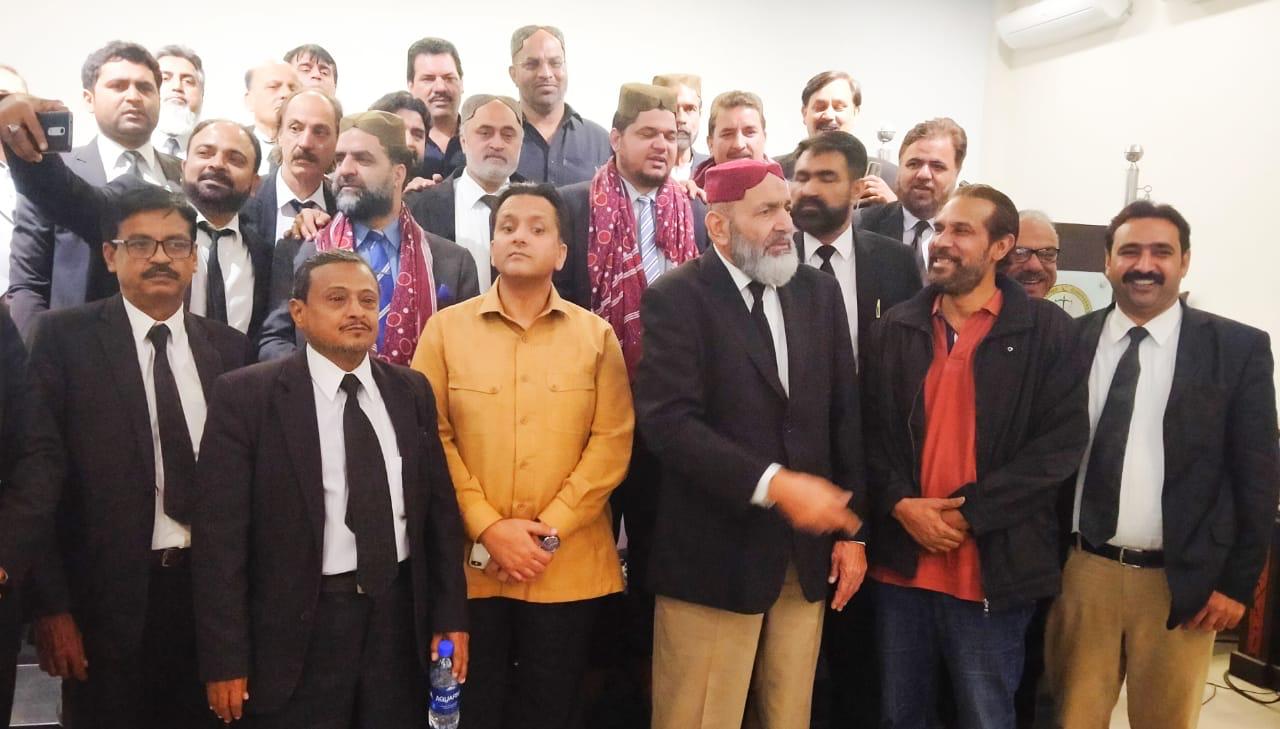 He further said that, Karachi lawyers have always participated in the Tehreek-e-Kashmir, Karachi became the voice of Kashmiris, The Land of Sindh is that of hospitality, we called Kashmir Jugular vein, and we had a general body meeting on Kashmir Day, we passed a resolution, which was sent to the UN. We are organizing Kashmir Conventions nationwide, we cannot step back on Kashmir cause, Kashmir is a problem of Pakistan and all of us, Kashmiris should be given the right to self-determination, He added.


During his address, President Jammu Kashmir Salvation Movement, and Kashmiri Hurriyat Leader Altaf Ahmed Bhat said that The purpose of coming here is to raise awareness for Kashmir. If the lawyers of the country, including Karachi, become the voice of the besieged mothers, daughters, and sisters of occupied Kashmir, we will see revolutionary changes. I fought the Indian army myself, but only Jihad with the sword is not enough, we need to have strong diplomacy, to expose Indian state terrorism in diplomatic fronts of the world. Fahim Kayani groomed with the leadership of Kashmir, his heart feels the pain and melts for the oppressed Kashmiri people. The pain that has been felt by 18 months Hiba Han, Asiya Andrabi.
We fight for peace and justice. My demand is to raise the voice of besieged Mothers and sisters of Indian Occupied Jammu and Kashmir throughout the world, and we will strike every door of the International Organizations, & Parliaments till the freedom of Kashmir.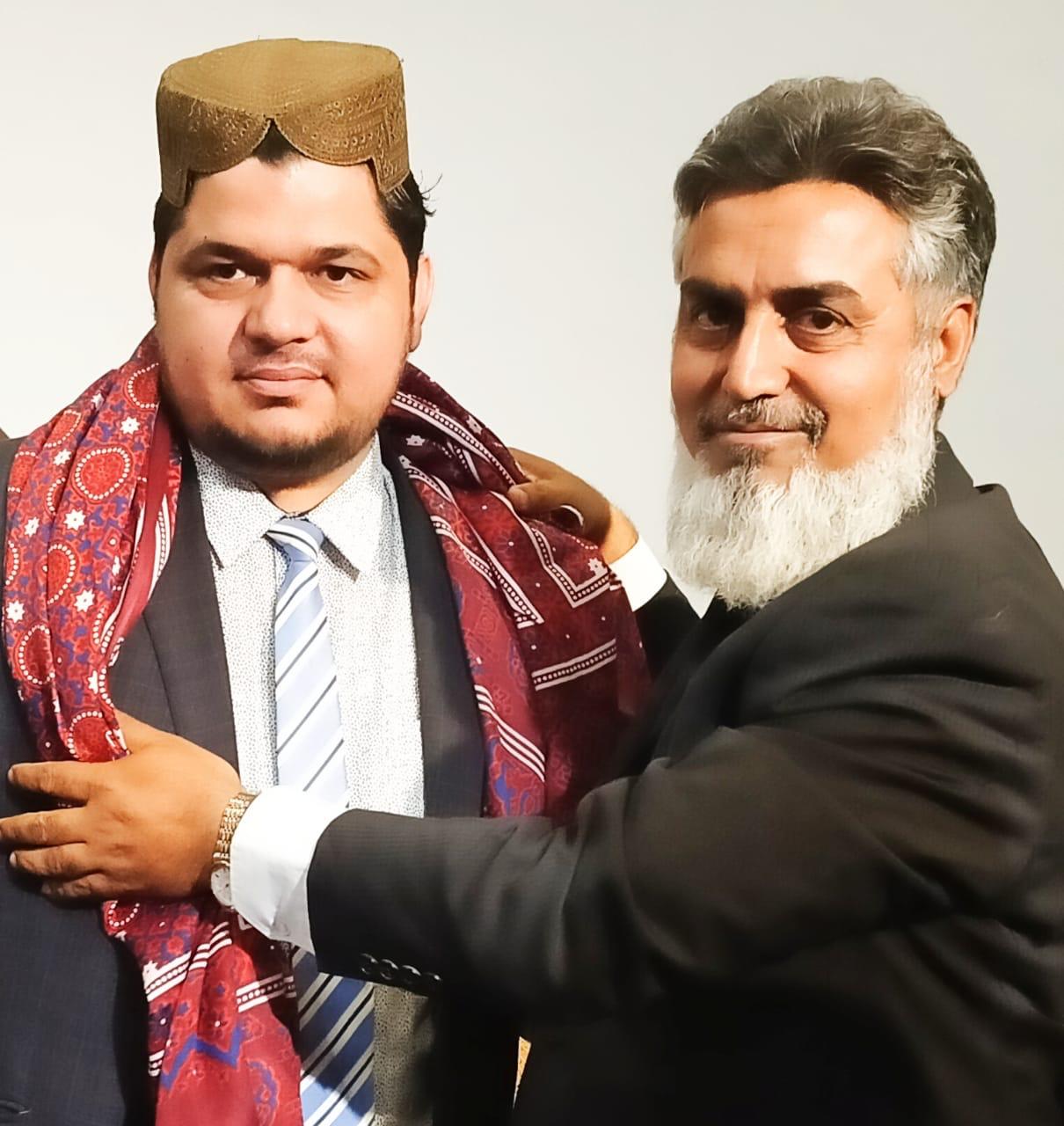 Indian lawyers and judges hanged Afzal Guru simply because he was considered by the Indian judge to be the voice of the Indian nation.
Pakistani lawyers should have raised voice for this atrocity.
I salute the Pakistani nation for Asiya Andrabi, Gilani, Mir Wazir Omar Farooq, Shabbir Shah, Yasin Malik and Zafar Akbar Bhat, that they fought a bigger power for Kashmir.
President JKSM Bhat asserted that The way we are making sacrifices, just as India is trying to suppress the movement, Likewise Pakistan has to work even harder for the freedom of Kashmir.
While the world comes to roads for protest in favour of Kashmir, but there is silence here, the momentum is stopped, Pakistan's statement should be in accordance with the statement of Quaid-e-Azam Muhammad Ali Jinnah. The world asks for the solution through dialogues, but despite hundreds of session of Talks, Kashmir issue persists.
The main obstacle in resolving the Kashmir issue is India's deliberate tenaciousness. Which does not allow the implementation of the resolution presented by its signatures?
Bhat further said that, In Kashmir, Fathers, sons, daughters are killed, women are molested, and made half widows by abducting their husbands.
There is no example of bravery like Kashmiris in the world. From Karachi to Srinagar, we are one.
Altaf Ahmed Bhat addressing to the lawyers suggested that File a case in the International Court of Justice against Narendra Modi's atrocities, and extrajudicial killings of innocent Kashmir, call Modi in the court of the ICJ – prove him a terrorist of the world and held him responsible for a crime he did against humanity.
The eyes of Kashmir's mothers & sisters are at Pakistan after August 5, 2019, we are grateful that Pakistan is behind us. But Before August 5, India had occupied Pakistan's vein, now Modi has set foot on Pakistan's vein. Which is our claim that Kashmir is the backbone of Pakistan, it is also the survival of Pakistan. Bhat added,
The blood of 5 lac people of Kashmir is in the very foundations of Pakistan. It is a war of hatred and love. There are many steps to take before the war.
Is that happening? Are lawyers and businessman and people related to other fields are taking those steps?
We never believed in any article of India before, now after August August, Modi terminated all agreements. Now, after 5 August, Modi terminated all agreements,
Now, India is illegally, and oppressingly controlling Kashmir. Who are we waiting for, Kashmiris will never stay with India, if we do not rescue Kashmiris today, Kashmiris will be killed, if you do not rescue today, there will be a disaster, The war Pakistan will have to fight for waters tomorrow will be even more costly if we don't liberate Kashmir from India today.
If the Pakistan Army started mobilizing towards Kashmir today, every young, old, Men, Woman, and elderly will kick out Indian Army from Indian Occupied Jammu and Kashmir.
India has been full of war madness. We have to create awareness in the masses too – then the Kashmir issue will be solved and then the third party will be forced to mediate.
In the world, especially in Europe, people like Fahim Kayani have made Kashmir a flashpoint, & this is the right way to respond to Modi's actions.
Speaking on the occasion, Raja Fahim Kayani, President Tehreek-e-Kashmir UK said taht, "I have people in front of me who have played a role in making Pakistan! You understand the legality of the Kashmir issue. I think Kashmiris are in love with Pakistan and they are fighting the Freedom war for the love of Pakistan."
In 1947, the resistance against the Dogra army was considered little, but that resistance defeated Indian forces, and India moved to the United Nations.
India massacred 4 lakh, people of Jammu, The world media remains silent, but those sacrifices were offered in love of Pakistan.
Kashmiris salute and wave Pakistani flags, women's bodies are cut 10,000 women were raped. Altaf Ahmed Bhat's family fought against Indian brutal forces, but still, Kashmiris did not bow down or withdraw from their demand for freedom.
President Tek Raja Fahim Kayani while saluting and praising the valour of Kashmiri women said that, The brave and courageous Kashmiri women are raped, but never reported Freedom Fighter Mujahideen to Indian forces.
Fahim Kayani said that the protests ignite the movement, all the paths to peace go from Srinagar, Kashmir's liberation route does not come from Washington, London or anywhere but Islamabad. Today is a war of determination, Kashmir.
"When the leaders show commitment, millions of people will come out in Karachi, Lahore, Islamabad, and India will be asked by UK, EU and commonwealth about the atrocities and persecution of besieged people of Indian occupied Jammu and Kashmir. "Kayani added.
Question Answer session followed at the end, bar lawyers asked questions from both the leaders about Kashmir. In the end, the Karachi Bar presented the Guests with Sindhi casings and hats.