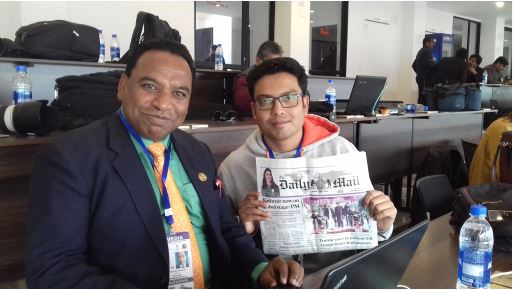 Islamabad: Feb 09, 2020 (TNS): The visiting Bangladeshi Sports journalist Md. Rana Abbas of the Prothom Alo find Pakistan a is safe country for international cricket also praised hospitality, security and arrangement for media during the first test match at Pindi cricket stadium Rawalpindi. Talking to the young talented sports journalist of south Asian country Bangladesh have praised unprecedented security provided to the visiting Bangladeshi test cricket team and are awed by the love and hospitality of the people at Rawalpindi.


Md. Rana Abbas is the only foreign journalist who covered the current Pak vs. Bangladesh test match at Pindi cricket stadium Rawalpindi stated that he found unprecedented security wall during the visit in Rawalpindi, adding Pakistan is very safe for cricket and tourism.Md. Rana Abbas is young and talented sports journalist from south Asian country Bangladesh and visited many countries to cover the international sports events. On his arrival Asghar Ali Mubarak the former founder president South Asian Sports Journalists Association welcomes and presented him a ''symbol of sports'' as an award of achievement, as a token of mark of appreciation for the promotion of sports through pen. Talking to The Daily Mail at the Pindi stadium on other day,


Md. Rana Abbas the journalist admitted that they were confused initially whether to visit or not but the love of cricket pushed them to visit Rawalpindi despite fears. Md. Rana Abbas said that '' all major cricketing nations including South Africa, England and Australia should come and play in Pakistan", he said in his appraisal whether Pakistan was safe for cricket. He said "I am very happy to see the love of people for Bangladesh'' he said. Earlier a ten-member media team Mahmudur Rahman of DBC News Dhaka, visited Lahore during the first leg of the Bangladesh team for three Twenty20 international matches series played at Lahore. The journalists, during their visit watched cricket, saw Lahore and interacted with people. He expressed his delight on visiting the historic sites in twin's cities during his visit, adding he was pleased to find people loving and accommodating.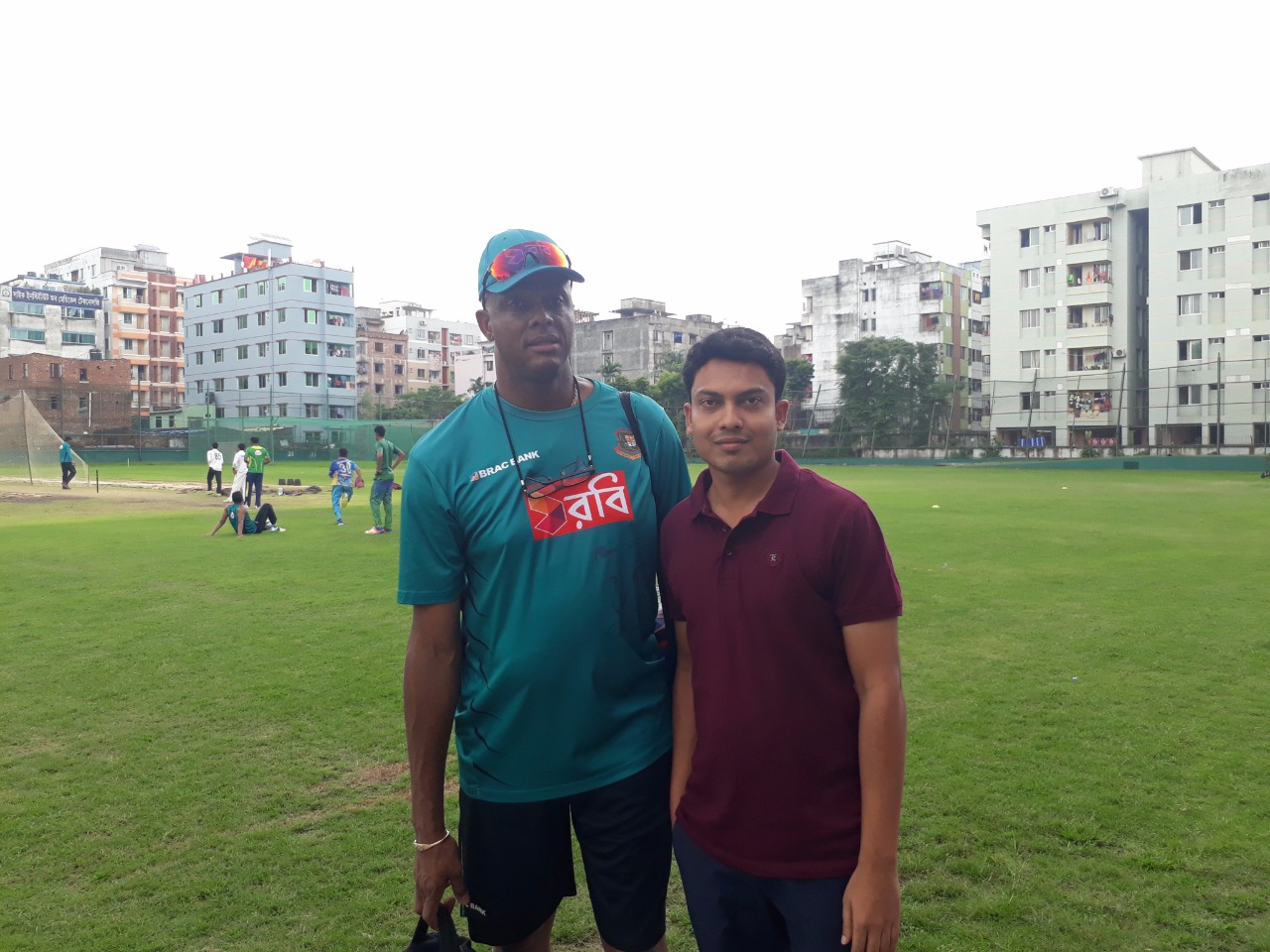 He said he was happy to be part of the contingent to bring test cricket back to Pakistan. He said he felt very safe in Lahore and moved around without any fear."I have been receiving phone calls from my colleagues in Dhaka to know about the security and I have told them Pakistan is the one of the safest countries in the world", Md.Rana Abbas said, adding people are crazy about cricket in Pakistan and cricket fans should not suffer. Md.Rana Abbas said he had fallen in love with the Pakistani food, adding that he was a foodie and Pakistani food was the best in the world. He said all who visit Pakistan must taste Pakistani food. Comparing capital Islamabad with Dhaka, the sports journalist from Dhaka said Islamabad is like Europe as compared with Dhaka the visiting journalist said he would fond memories of twin's cities with him and love to come back for more test cricket matches in future.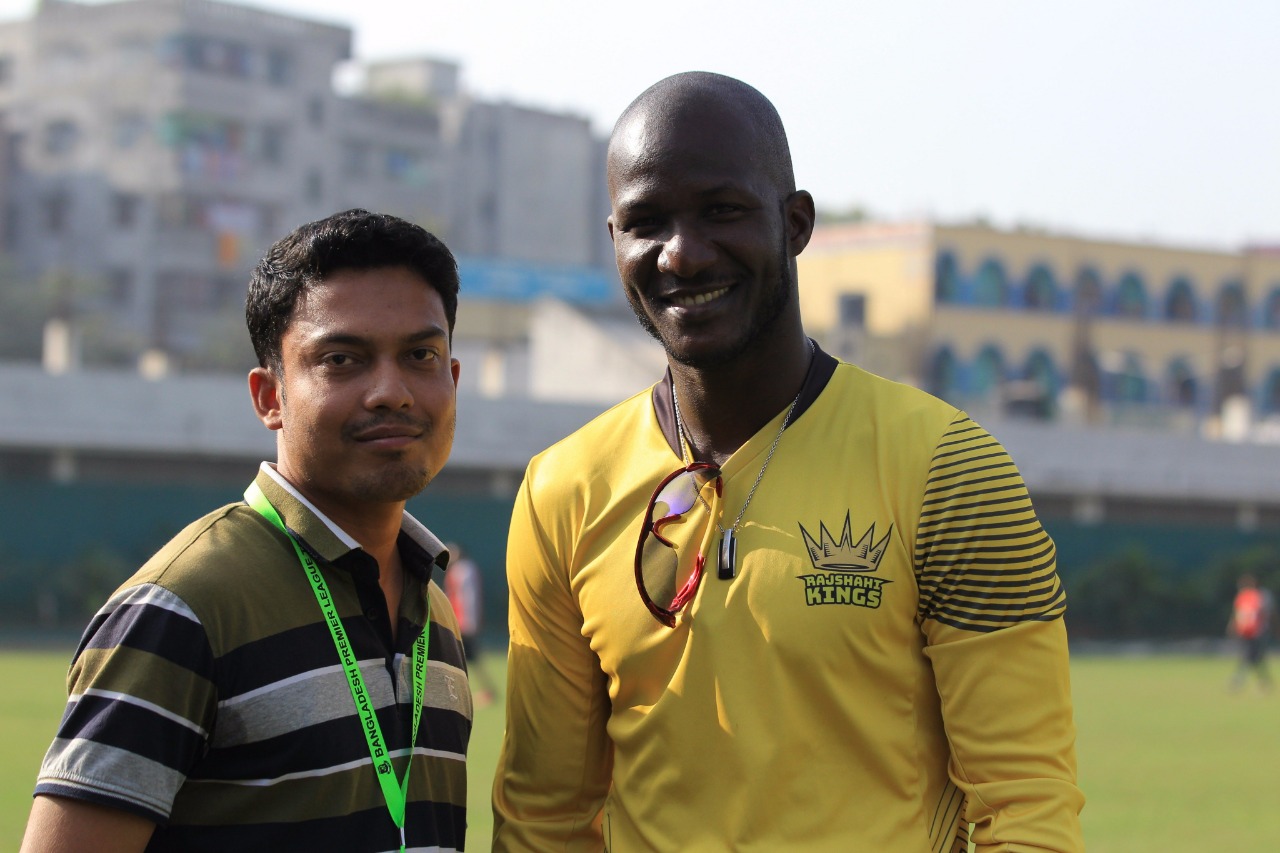 Md. Rana Abbas is the only foreign journalist who covered the current Pak vs. Bangladesh test match at Pindi cricket stadium Rawalpindi.Earlier Md.Rana Abbas was associated with Daily Bonik Barta as apprentice Sub Editor in October from 2012 to November 2012. He Graduated from University of Chittagong Bangladesh and awarded degrees of Master of Science (M.S.) Field of Study Geography and Environmental Studies.His research skills and endorsed by the renowned by Rasheduzzaman Pobittro, who is highly skilled at this Creative Writing.Now a days he is working for Prothom Alo from June 2013, Prothom Alo is the largest and most popular newspaper of Bangladesh based on circulation and readership. The news paper started its journey from 4 November 1998. Because of courageous journalism, rich content, and presentation with unique layout and design, this newspaper quickly won the hearts of millions of people, even the most sophisticated and fastidious readers extended their loyalty toward it. Since then, Prothom Alo has been lighting up every nook and corner of Bangladesh along with 200 other countries and territories across the world through its online portal.


According to a brand equity study conducted by Quantum Consumer Solutions Limited, Prothom Alo is considered to be the most influencing brand of Bangladesh. Prothom Alo has 29 offices across Bangladesh. Currently, 570 people altogether, including 180 journalists, are working at Prothom Alo. Along the path of its journey, Prothom Alo has broken all the prevalent circulation landmarks of the print news media industry of Bangladesh. Among all the dailies published in the country, Prothom Alo has the highest circulation. From press facilities located in Dhaka, Chittagong and Bogra, around 5,32,000 copies (as of September '13) are circulated each day. According to National Media Survey, every day 6.5 million people read Prothom Alo in print and digital platform. The claimed readership of the print edition of this newspaper is 9.6 million*. Prothom Alo does not only have the widest reader base as a whole, in every segment of readers, be it based on demographic, geographic, or economic parameters, Prothom Alo's readership number is way ahead of any other newspaper. The online portal of Prothom Alo (www.prothom-alo.com) is accessed by 1.6 million visitors from 200 different countries and territories across the globe with 200 million pageview per month.