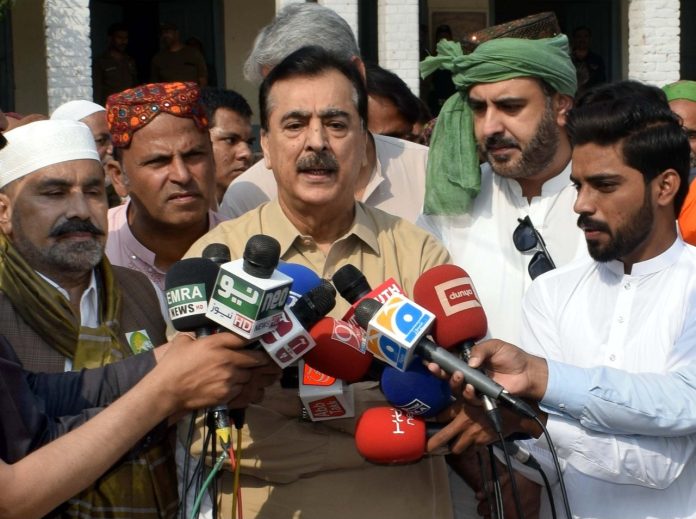 Multan. celebration of Eid Milad-ul-Nabi organized by Anjuman Islamia Multan, the largest and oldest historical 94th annual procession in the history of Pakistan was taken out from Shaukat Hussain Islamia Kindergartens School Daulat Gate under the leadership of former Prime Minister Makhdoom Senator Syed Yousuf Raza Gillani.

President of Anjuman Islamia Makhdoom Syed Tanvir ul Hasan Gillani, Sajjada nasheen of Hazrat Musa Pak Shaheed Makhdoom Syed Abul Hasan Gillani, Senior politician Makhdoom Javed Hashmi, Syed Ahmed Mujtaba Gilani, Syed Abdul Qadir Gillani, Member Provincial Assembly Syed Ali Haider Gillani, Members of Provincial Assembly Nadeem Qureshi, Haji Saleem Akhtar Labar, Zia Gillani. Syed Amir Gillani, Mamoon Gillani, Syed Hadi Gilani,Irtza Gillani, khawaja Noor Mustafa, Babu Nafees Ansari ,Sohail Bhutta , Malik Qadeer Khokhar, Malik Nasim Sajad, Malik Nasim Labar, Ashiq Qadri, Malik sajad,Malik Jamal Labar, Makdom Matlub Bukhari , Saqlain Naqvi, Amir shahzad Malik Yousaf , Malik Imran Yousaf , Malik Abdul Rehman, Tariq Qadri , Norul Amin khakwani, M Salim Raja, Haji Khalil ur Rehman Amin sajid, a large Number of dignitaries were included.



This procession entered Chowk Hussain Agahi and Chowk Bazar-Sarafa Bazar via Pak Gate-Haram Gate Chowk Shaheedan shaheen market, Bohar Gate, Ghanta Ghar, Lohari Gate passing through Hussain Aghahi and ending at Daulat Gate lastly. In the procession, thousands of lovers and apostles, besides the processions of various organizations, Makhdoom Tanvir ul Hassan Gilani, Makhdoom Yousaf Raza Gilani, Makhdoom Syed Ghulam Yazdani Gilani, and Makhdoom Syed Abul Hassan Gilani and others leaders were given great reception in the city.