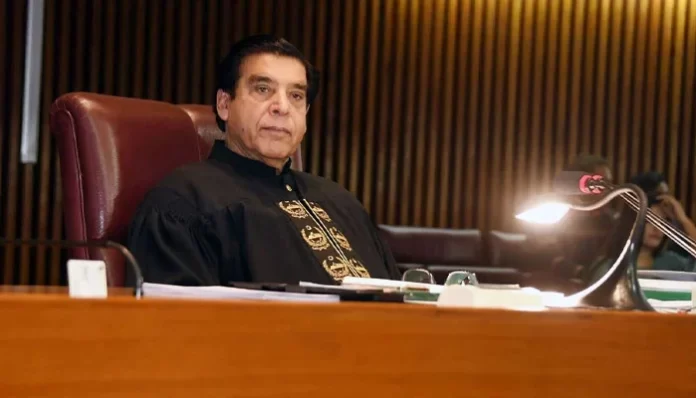 In a major development in country's political setup, the resignations of 43 MNAs of Pakistan Tehreek-e-Insaf (PTI) have been accepted, sources said Tuesday, a day after the party announced the decision to withdraw the resignations.
Officials of the speaker's office, who spoke on the condition of anonymity, said that NA Speaker Raja Pervaiz Ashraf had sent a summary to the Election Commission of Pakistan (ECP) after approving the 43 resignations a few days ago.
So far, the resignations of 124 PTI MNAs have been accepted and 81 members have been denotified.
The PTI resignations were accepted by NA Speaker Ashraf in four stages. Initially, only 11 resignations were accepted, 34 resignations in the second 35 in the third, and now 43 others in the fourth stage.
After the latest approval of resignations, the only PTI members left in the national legislative are the dissidents who were elected as the MNAs on the party's ticket and later defected.
Govt relying on turncoats: Fawad Chaudhry
Reacting to the development, senior PTI leader Fawad Chauhdry said the main reason to return to the assembly in small numbers was to remove Raja Riaz as the opposition leader because the legislature had "no importance".
"Right now, Shehbaz Sharif has lost the support of 172 members and is relying on lotas (turncoats) to save his government," tweeted Fawad.
As a result of the speaker's actions to save Raja Riaz, 40% of seats are now vacant, he added.
"Country is close to elections now. The only solution to this problem is general polls," said Fawad.
PTI lawmakers request ECP against de-notification
On Monday, PTI's Secretary General Asad Umar announced that "45 MNAs are withdrawing their resignations", in what appeared to be another u-turn on the party's behalf.
However, fearing the NA speaker's move, the PTI lawmakers approached the ECP requesting that they shouldn't be de-notified even if their resignations are accepted.
Before approaching the ECP, PTI lawmakers staged a protest outside Ashraf's residence and later outside the electoral body's building as the authorities restricted them from entering the Parliament House and NA speaker's house.
The resignations
The PTI lawmakers had tendered their resignations en masse after the Imran Khan-led government was ousted via a no-confidence motion in April of last year.
The PTI had claimed resignations were accepted by former deputy speaker Qasim Suri in absence of the speaker after Asad Qaiser's resignation.
Speaker Ashraf had stalled the process of accepting resignations stating the remaining lawmakers would be summoned individually for verification.
However, contrary to his claims he quickened the process once PTI, earlier this month, announced its return to the assembly and test the PM through a no-trust move.