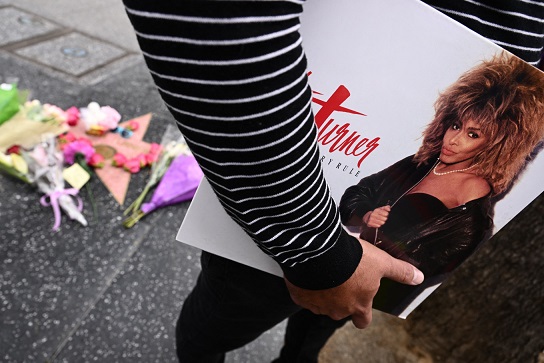 Washington, May 25 (AFP/APP):Tina Turner, the growling songstress whose explosive stage presence electrified fans the world over, left an indelible mark on 20th-century rock with five decades of hits — first with husband Ike Turner, but most memorably as a wildly successful solo act.
The Black eight-time Grammy winner lit up the stage from the 1960s onwards — and won a new generation of fans in a stunning comeback after escaping her violent marriage, making her popular music's ultimate survivor.
Abandoned by her parents, Turner emerged from Tennessee's cotton fields to become the "Queen of Rock and Roll" who, according to music lore, taught Mick Jagger how to dance — and the Rolling Stones frontman led the flood of tributes Wednesday, following the superstar's death at the age of 83.
The singer of "The Best" died in Switzerland, where she lived her final years with husband Erwin Bach, a former record label executive who was her romantic partner for three decades before they wed in 2013.
Long before she snowballed into a global phenomenon, Turner's early career — originally as a soul and R&B siren — was a roller coaster for the singer, who admitted attempting suicide at the height of Ike's physical and emotional abuse.
Tina fled Ike in 1976, dashing across a highway to escape during a concert tour. Her divorce was finalized in 1978, and she was left with nothing but her stage name.
But the rock star dream still gnawed at her. "How can I fill stadiums?" Turner wondered, in comments played during her 2021 Rock & Roll Hall of Fame induction. "I wanted it. I wanted to do what Jagger and all the other guys at the time was doing."
Those dreams were fulfilled, and then some, when she struck crossover gold with her 1984 album "Private Dancer," whose Grammy-winning smash single "What's Love Got to Do With It" propelled her to superstardom at age 44.
Four years later, she set the record for largest paying attendance of a performance by a solo artist when her Rio concert crowd topped 180,000.
As a Black woman who embraced rock over 1950s doo-wop and 1960s Motown, Turner was a double outsider. But she wrote — and then rewrote — the rule book for women in the genre.
"A Black woman owning the stage all by herself: that's the dream right there," singer and rapper Lizzo said of Turner.
Turner sold more than 100 million records worldwide, according to Billboard, and paved the way for performers like Janet Jackson, Madonna and Beyonce.
"I never in my life saw a woman so powerful, so fearless, so fabulous," Beyonce told Turner from the Kennedy Center stage in a 2005 Tina tribute. "And those legs!" Anna Mae Bullock was born on November 26, 1939, in Brownsville, Tennessee.
She and her sister grew up in a family of modest means but conditions worsened when they were abandoned by their father, and then their mother.
When the grandmother who helped raise them died, Anna Mae moved in with relatives in St. Louis, Missouri at age 16.
There she met Ike Turner, a guitarist and bandleader eight years her senior who had already tasted fame, having written and recorded what was arguably the first rock and roll record, "Rocket 88," in 1951.
She convinced Ike to let her sing with him.
When he scored a 1960 hit with her lead vocals on "A Fool in Love," he gave her the stage name Tina Turner, and the pair performed as the Ike & Tina Turner Revue. By 1962, they were married.
From early on, Tina was the fiery, dominant presence, stealing the limelight with a blend of thick, textured vocals, haunting howls and mesmerizing dance moves.
The Turner oeuvre reflected their personal tensions: it included "I Idolize You," "It's Gonna Work Out Fine," and their most famous number, a 1970 cover of "Proud Mary," in which Tina purrs about starting the song "nice and easy," but finishing it "nice and rough."
Even as she exuded raw sexual power as a performer, her singing was tinged with a palpable vulnerability.
"You sing with those emotions because you've had pain in your heart," Turner told Rolling Stone magazine in 1986.
After leaving Ike, she toiled in Las Vegas shows, released modestly selling solo records and toured heavily in Europe.
But with the success of 1984's "Private Dancer," her metamorphosis from manipulated co-star to resurrected rock goddess was complete.
The next year, she was onstage at Live Aid in Philadelphia for a memorable encounter with Jagger, who ripped off Turner's black leather miniskirt mid-performance, revealing her in fishnet stockings and a leotard.
Turner grinned and ran fingers through her lion's mane of hair.
"I know, it's only rock and roll but I like it!" she belted out.
She starred opposite Mel Gibson in a Hollywood blockbuster, "Mad Max: Beyond Thunderdome;" co-wrote a best-selling autobiography, "I, Tina;" and was the subject of a feature film, "What's Love Got To Do With It" starring Angela Bassett.
In the revealing 2021 HBO documentary "Tina," an uncomfortable reality emerges: her past trauma had become a focus for interviewers, with the star repeatedly asked to recount her life's worst moments.
Turner, who had embraced Buddhism and saw it as "a way out" of her dangerous first marriage, pointed to the faith as a catalyst for rejuvenation and stability.
She often swatted away probing questions, once saying reliving the past was like a "curse."
But personal hardships were impossible to ignore, including the violence from Ike.
"He used my nose as a punching bag so many times that I could taste blood running down my throat when I sang," she wrote in her 2018 memoir, "My Love Story."
In life after Ike, her concerts became glitzy spectacles — and she kept the high-octane rock flowing for decades.
A Wembley Stadium concert in 2000 saw a 60-year-old Turner holding nothing back, grinding across the stage in stiletto heels and her trademark leather miniskirt.
In 2008, she embarked on her Tina! – 50th Anniversary Tour, which grossed some $130 million.
The grande dame enjoyed her later years with Bach in their Zurich home and a vacation mansion near the French Riviera, although tragedy struck in 2018 when Turner's eldest son Craig, from her early union with saxophonist Raymond Hill, committed suicide at 59.
Ike Turner died in 2007, and his one child with Tina, Ronnie, died last year at 62 of complications from colon cancer.
In 2013, after marrying Bach and taking Swiss nationality, Turner relinquished her US citizenship — but the former president Barack Obama was among those who paid the most poignant tributes.
"Tina Turner was raw. She was powerful. She was unstoppable," he wrote. "And she was unapologetically herself — speaking and singing her truth through joy and pain; triumph and tragedy."