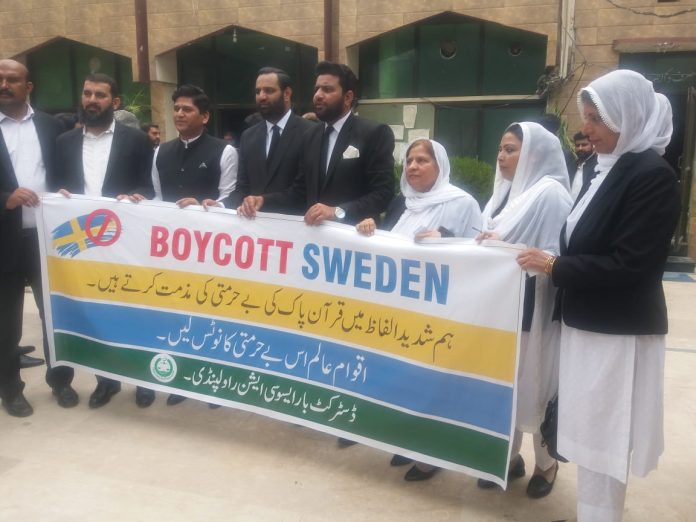 Lawyers have strongly condemned the desecration of the Holy Quran in Sweden, Miss Azma Mubarak Finance Secretary District Bar Association Rawalpindi,Azmat Ali Mubarak Member Executive ,Tahira Bano Mubarak former Member Executive Lahore High Court Bar Association Rawalpindi on the occasion of the protest against the Sweden incident in Rawalpindi and other lawyers said that they strongly condemn the incident that happened in Sweden, "we demand immediate action against the criminals". The lawyers says that unfortunately this is not the first inciden , there have been such heartbreaking incidents before and it has come to light that we strongly condemn the narrative of hatred that has been created against Muslims and demand the government to take full notice of these incidents.
Advocate Miss Uzma Mubarak's Finance Secretary and Azmat Ali Mubarak Member Executive of District Bar Association Rawalpindi said that Pakistani government should take full notice.
He said that the Charter of the United Nations has told us about the respect and observance of human and fundamental rights without discrimination of race, sex, language or religion. The right to freedom of expression must be exercised with responsibly.