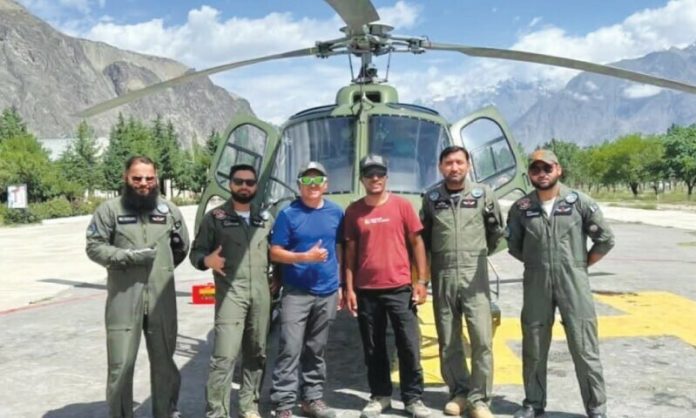 Asif Bhatti, a Pakistani mountaineer stuck on the world's highest peak, Nanga Parbat, reached the base camp after five days. According to the report, Prime Minister Shahbaz Sharif had directed the authorities of Gilgit-Baltistan and the army to immediately rescue the mountaineer Asif Bhatti. .
The Prime Minister issued these instructions after Asif Bhatti's son appealed for his father's early rescue on social media.
The Prime Minister had directed the Chief Secretary of Gilgit-Baltistan to contact Asif Bhatti's son and assure him of immediate steps to rescue his father.
According to the report, the secretary of the Alpine Club of Pakistan, Qaran Haidari, confirmed that Pakistani mountaineer Asif Bhatti, who was stuck in Nanga Parbat, the world's ninth highest 8,126-meter mountain on July 3, has reached the base camp after five days. .
45-year-old mountaineer Asif Bhatti was stuck at Camp 4 due to bad weather while trying to summit.
Asif Bhatti, a university teacher by profession, was trying to reach the summit with foreign climbers when he got stuck at Camp 4 at an altitude of 7,500 meters.
Asif Bhatti radioed the team at the base camp for help as he was unable to proceed due to bad weather, although he was physically fit.
According to reports, Asif Bhatti suffered from snow blindness at Camp 4 while trying to summit Nanga Parbat, after which it was not possible for him to open his eyes and he got stuck in Camp 4 which is at an altitude of 7,500 to 8,000 meters. Is,
45-year-old Asif Bhatti sought help from the climbers at the base camp to get out.
According to Deputy Commissioner Diamer, Israfel Ashuri, a mountaineer from Azerbaijan, contacted Asif Bhatti on Monday and helped bring Asif Bhatti to the base camp by abandoning his summit. Azerbaijani mountaineer Israfel Ashuri met Asif Bhatti at Camp Four. Helped and they slowly brought them towards Camp Three. There were also two Italian climbers in the Yamp 3
They started coming back on Tuesday and reached Camp 3 by night, while the rescue team on ground was busy trying to bring Asif Bhatti back and were waiting for a helicopter to go to Camp 2 as the weather was bad. Because of this, the helicopter could not fly at a higher altitude.
As the helicopter was not flying higher due to bad weather, the two-man team started climbing Nanga Parbat from the base camp to join the two climbers descending from Camp 3.
The four climbers were later found on Wednesday and the injured climber was brought to Camp 2.
Yesterday, the helicopter of Pakistan Army left for Nanga Parbat from Skardu for rescue mission but again the attempt could not be successful due to bad weather.
Similarly, the four climbers managed to reach the base camp with their help. Later, Asif Bhatti was brought to Skardu by an army helicopter.
Asif Bhatti's social media manager Dr. Asif Khoja thanked the rescuers on behalf of the family and friends.
In a statement, Asif Khoja appreciated the action taken by Azerbaijan to rescue Asif Bhatti by stopping their summit.
Mountaineer Sajid Ali Sadpara also appreciated the heroic efforts of the rescuers.
In a statement issued on social media website Twitter, he said that Israfel's choice to abandon the summit and save (Asif Bhatti) is unusual.
He said that it is time for the government to start thinking about setting up a mountain rescue team.