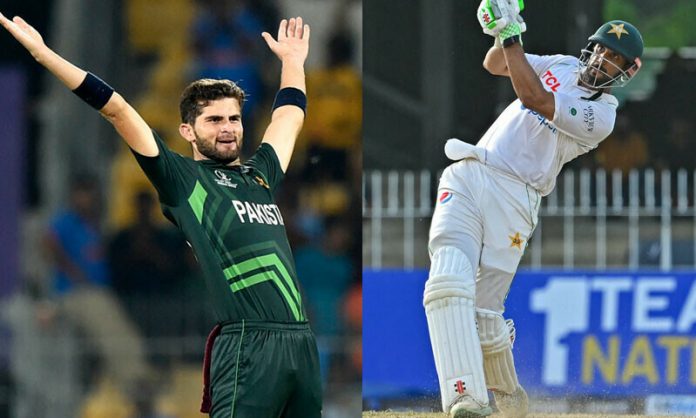 After the resignation of Babar Azam, the Pakistan Cricket Board has announced the new captains of the national team, where Test team captain Shan Masood and T20 Pakistan team. Shaheen Shah Afridi has been appointed as the captain while Mohammad Hafeez has been made the team director.
Former captain Babar Azam resigned from the leadership of the national team after the poor performance of the national team in the World Cup. He said in a message on the social networking website Twitter that he is leaving the captaincy of Pakistan in all formats, it is a difficult decision. But I think this is the right time for this decision. I will continue to represent the team as a player in all three formats and will continue to support the new captain and the team with my experience. Some time after his announcement, the Pakistan Cricket Board has announced the captains of the Test and T20 teams. The Pakistan Cricket Board has appointed Shan Masood as the captain of Pakistan's Test team while Shaheen Shah Afridi has been appointed as the captain of the T20 team. The name of the captain of the ODI team has not been announced by the Pakistan Cricket Board. Shaan Masood and Shaheen Shah Afridi do not have the experience of leading a team at the international level but both have a lot of experience leading a team in domestic and T20Is. Shan Masood has led Pakistan Super League team Multan Sultans while Shaheen Shah Afridi is the captain of Lahore Qalandars and under his leadership Qalandars won the title of champion. Shaan Masood will face a major test upon taking over as Pakistan travel to Australia for a three-Test series where they have suffered a back-to-back defeat in the last 14 Tests. After the Test series, Pakistan will go to New Zealand where the Pakistani team will play the T20 series for the first time under the leadership of Shaheen Shah Afridi. The Pakistan Cricket Board has also changed the portfolio of the coaching staff of the national team including director Mickey Arthur while making another important change. According to the statement issued by the board, all the coaches will continue to work in the National Cricket Academy and the Pakistan Cricket Board will soon announce the coaching staff for the tour of Australia and New Zealand.
Later, in another press release issued by the board, it was announced that Muhammad Hafeez has been appointed as the director of the Pakistan Cricket Team. Muhammad Hafeez represented Pakistan in 55 Tests, 218 ODIs and 119 T20 International matches and scored a total of 12,780 runs and took 253 wickets. Before the World Cup, Hafeez has also been a member of the technical committee of the Pakistan Cricket Board.