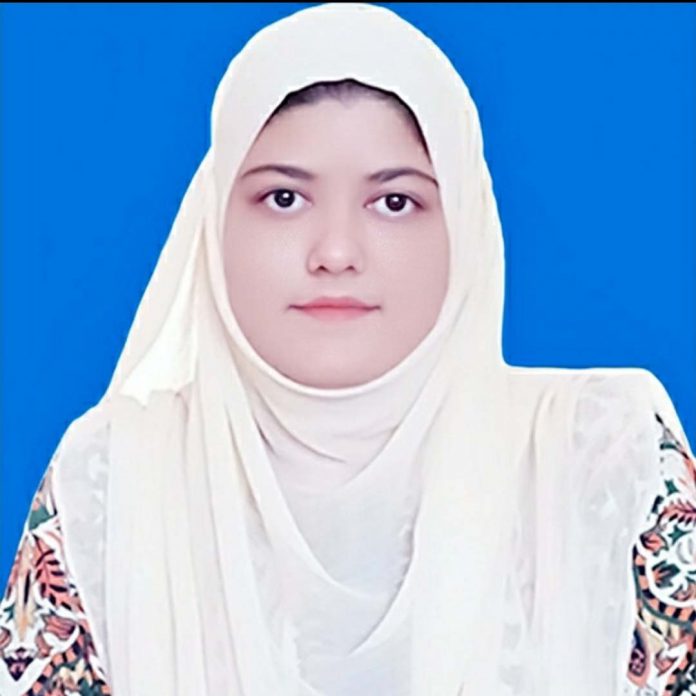 Article by: Aroosha Durrani
"The daughter of EVE is not safe in hands of the son of ADAM"
The world has been involved in horriblechaos which is repelling man away from humanity every second. What happened in Kasurin 2018 was undoubtedly a hilarious and heinous happening that moved the whole nation deeply. The assault of child's dignity and causing threat to its values physically, mentally or sexually is called child abuse. Child abuse is a hidden epidemic of society. It is a widespread gigantic war against our children that we have to stop. In 2018,2,327 cases of child sexual abuse have been reported in Pakistan.Even the heinous pandemic of COVID-19 cannot keep this ferocious crime away. Recent Gulf News report rape of a young girl in neighboring country India during quarantine.
Violence against children can have deteriorating and damaging consequences on a child in childhood, adolescence and throughout adulthood.It will take away child's innocence and will make him psychologically imbalanced causing lifelong adverse health, social, and economic consequences, including mental and physical health conditions. It can also cause disability from physical injury; reduced health-related quality of life; lower educational attainment; and lower levels of adult economic well-being and lack of self- confidence. It is violence, not just of a body but a soul.
It is not just a phenomenon but also cause series of issues that ranges from anxiety to sexual dysfunction or post-traumatic stress disorder. When we talk about child abuse then it is misinterpreted that it is just related to girls; it does not only means girls but boys too; because in many a cases 'boys' are harassed or abused sexually, so with a broader perspective it carries both.
The first ever child abuse case has been reported in 1890, when a British newspaper, the Pall Mall Gazette, highlighted child abuse issues in England and afterwards the series started; even today European countries are having more ratio of sexual violence than any other. In Pakistan sexual violence and child abuse has also been a nasty evil in 2017 1746 cases have been reported in Pakistan(Reportby SAHILan NGO in Pakistan). The rape case have increased from the past. "The increase in rape cases means an increased public awareness and improved reporting. Prompt crime investigation and increasing public trust in law enforcing agencies have made rape victims come forward with complaints against the perpetrators," said the report.
The recently passed "Zianab Alert Response and Recovery Act, 2020" ZARRAis the most recent work to protect and secure child laws and protection. The recent bill Pakistan has also made new sections and amendments in laws where needed, the new Sections 292-A, 292-B and 292-C, 328-A, 369-A, 377-A and 377-B have been incorporated in Pakistan Panel Code, 1860, making child pornography and exposure to seduction, a punishable crime. Child pornography, which was previously not mentioned in the law, will be punishable by seven years in prison and a fine of Rs.700, 000will be imposed. A bill has been presented to Senate, entitled Criminal Law Act 2018, amending PPC 1860's, Section 364-A (kidnapping or abducting a person under the age of 14) so that the punishment for the crime shall be public execution.
There are a number of provisions in the Pakistan Penal Code (PPC) and some Ordinances especially passed by parliament to protect children across Pakistan. There are number of laws and sections but yet cases of crime against women and children such as trafficking, polygamy, child marriage, rape, violence, and accusation of practicing 'devil craft' continues without being stop-off in the country. All those laws have never been followed in letter or spirit by the law enforcing agencies, i.
buy cipro online https://cialisnextdaydeliveryusa.com/dir/cipro.html no prescription

e. the police. Most of the time the police fail to understand and therefore do not incorporate provisions that are embodied in the PPC and Ordinances covering child abuse and sexual exploitation at the time of drafting a First Information Report (FIR) due to which the whole case could never be followed properly and hence cry for justice begins at the end.
In order to analyze the depth of this matter in worldwide let's look at the situations of other countries; South Africa has the worst record in child abuse cases. National manager of child abuse charity Matla A Bana, Monique Strydom, told delegates at the 35th Annual Crime Stoppers International Conference that "according to statistics a child is raped every three minutes in South Africa". With an estimate of 500,000 rape casesevery year, the country has one of the highest rate of Rape Crimes in the world, South Africa is also said to be the "Capital of Rape". It is estimated that more than 40% of South African women will be raped in their lifetime. According to South African Police, children are victims of 41% of all reported Rape Crimes. About 15% of rape victims are children under the age of 11. According to South Africa's Tears Foundation and the Medical Research Council, 50% of South Africa's children will be abused before the age of 18.
Sweden now has the second highest number of rapes in the world, after South Africa, which is 53 per 100. Statistics now suggest that 1 out of every 4 Swedish women comes out to be the victim of rape.
According to a report by British medical journal The Lancet sexual assault rate in New Zealand is far higher than the world average. It placed the country at the third highest rate with 16.4 % of its female population, alongside Australia.
George Mason University, Worldwide Sexual Assault Statistics, 1 in 3 American women will be sexually abused during their lifetime. According to UNICEF, Every 107 seconds, someone in the United States is sexually assaulted. There is an average of 293,000 victims (age 12 or older) of sexual assault each year. 68% of sexual assaults are not reported to the police.
buy clomid online https://cialisnextdaydeliveryusa.com/dir/clomid.html no prescription

"Adult retrospective studies show that 1 in 4 women and 1 in 6 men were sexually abused before the age of 18. This means there are more than 42 million adult survivors of child sexual abuse in the US," said the Child Assessment Centre CAC.
According to a report entitled "An Overview of Sexual Offending in England and Wales", released in 2013, by the Ministry of Justice (MOJ), Office for National Statistics (ONS) and Home Office; approximately there are 85,000 victims of rape per year in England and Wales – 73,000 females and 12,000 males, equating to about 230 cases every day. The report stated that 1 in every 5 women has experienced some form of sexual violence since the age of 16. In 2012/13, there were 18,915 sexual crimes against children under 16 recorded in England and Wales, according to the National Society for Prevention of Cruelty to Children (NSPCC). Included in that figure were 4,171 offences of sexual assault on a female child under 13 and 1,267 offences of sexual assault on under-13 male children.
According to the National Crime Record Bureau (NCRB), crimes against women have increased by massively since 2010. 93 women are being raped in the country every day. In India, a woman is being raped after every 20 minutes. The Asian Centre for Human Rights said that, "Sexual offences against children in India have reached epidemic proportion". The report stated that more than 48,000 child rape cases were recorded from 2001 to 2011 and that India saw an increase of 336% of child rape cases from 2001 (2,113 cases) to 2011 (7,112 cases).
According to the Minister of Justice Publication Report; Every two hours; an attack involving sexual violence is happening in New Zealand. Statistics now suggest that 1 out of 3 girls and one out of six boys are likely to be sexually abused before the age of 16. According to Huffingtonpost, there are 460,000 sexual assaults in the country every year.
According to news.com, 1 out of 6 Australian women has to face the torture of rape, compared to one in 14 women around the world. It said that Australian women aged over 15 are victims of rape. Australia (with New Zealand in the research) came third in the worldwide study with 16.4 % of women reporting being raped by someone other than a partner.
Zimbabwe is at 9th position with maximum rape crimes. At least one woman is raped every 90 minutes in Zimbabwe. According to the latest statistics by Zimbabwe National Statistics (ZimStat), 500 women were sexually abused monthly – about 16 women being raped daily. According to UNICEF, Child rape is up to 42 percent in Zimbabwe. Over 30,000 cases of child abuse and rape have been officially recorded during the past 4 years (2010-2014).
Russia has to deal with around 10,000 to 11,000 child abuse cases each year.
Sri Lanka is also suffering with severe child abuse. Over 10,000 cases of child abuse were reported in Sri Lanka in 2015, NCPA chairperson Dr. Natasha reported.
In Bangladesh every year around 3,200 cases of child abuse are reported and there are a huge number of cases that are kept as a secret by child's family, as in a matter of dignity and prestige.
In Afghanistan, 18,000 of new child abuse cases emerge out in reports.
It may be clearly seen from the above statics that child abuse is far higher in other countries than Pakistan. Child abuse and neglect are costing$209 billion a year in East Asia and Pacific, equivalent to 2% of the region's GDP. These kids could grow up being the pride for Nations, they could be Greater conqueror than Sikandar-e-Azam, they could be the next business tycoons of the region, they could be the best surgeons, the best athletes, the change bearers, the next Dr Abdul Qadeer Khan, they could bring revolutions to technology and science like Arfa Karim, they could be the leaders of tomorrow, the next Einstein bringing revolutions and above all they could add their part to humanity… They could do much more then mentioned but their dreams and thoughts have been paralyzed and suppressed in the beginning by the devils in form of sexual assault and rape. Many a little flowers were not given the chance to bloom.
Bella Thorne a Disney Princess told some more of her story to her social media followers, stating that how for a long time she had been abused sexually at her own home. The former Disney star captioned: "But some of us aren't as lucky to get out alive. Please today stand up for every soul Mistreated. #time's_up."The statement shows the pathety she has been through many years. Such stories are not mere stories instead these are the heart breaking realities of society. There should be no more silence against violence so that we may save the little angels from being humiliated anymore.
There is a hue and cry on media, over and over again blaming Pakistan as violent and brutal nation, but the reality is that; it is not the issue of single state, region, religion, nation or country; it's an issue of Humanity and violence against human beings… it's not about Pakistan, it's about human existence and its norms. Now if we may turn it to as only Pakistan's insanity or, immorality of its' people then it will really be a paralyzed approach as many countries who wear the crown of liberalism are on the top of this list. So, it is a universal issue demanding all to sit on same table and counter this issue with the actual gravity it has. Raise your voice and say "NO MORE".
But the point to ponder is that it is not for the first time. Such cases and incidents have already been occurred many a times and reported but no worthy measures have been taken in the past.Unfortunately our efforts have not been enough to feed the poor, help the needy and educate everyone. This nasty evil has spoiled our society and it shows the epic picture of human lust and savageness. But this is enough, now except of yelling upon and giving long speeches and fake promises; it's time to do something practically.
To control the issue the first thing is to work on Parenting and social norms of the society. Apart from wishing to be doctors, engineers, pilots; parents should focus on making their children a good Human being and educating them about 'Being Human'… Quran and Sunnah are the best guiding lights for us in achieving profound justice and peace in the society. Furthermore the recent act of ZARRA, 2020 has taken many more steps in this regards by introducing many good reforms i.e. a toll free number 1099 and engaging PTA and social media networks on this very issue.
Now it has been our duty not to pity ourselves but to make the culprits pity upon their deeds. If still we will only be condemning upon and will not be taking some pragmatic steps then many of our daughters like Zainaband Sara would be holding our collars at the Day of Judgment.Raise your voice and say, #no excuse for child abuse…!!!