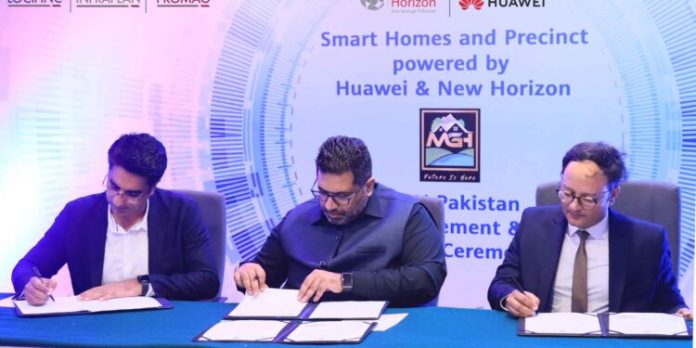 Huawei Technologies Pakistan and MGH Pakistan (Pvt.) Ltd Signed a strategic MoU for "1st of its kind fully automated and state of the art Smart Homes & Community" project in Pakistan. This Smart Community projection improvises the need to facility Automation, secures Wi-Fi 6 based connectivity and supports energy savings with healthy living environment, with the help of Huawei's service delivery Partner New Horizon.
MGH Pakistan has initiated a digital transformation project by having the Smart Homes & Community provisions where automation, secure connectivity and energy savings are being considered as first phase to be deployed with help of Huawei as Solution Lead OEM, New Horizon as Service delivery partner, Promag and its Group Companies Locii Inc. & Infraplan as the Project Managers and Principal Design Consultants for this prestigious project. The design includes the provision of standards of smart community where all parties are agreed to work accordingly.
The community design mentioned a first pilot projection in Pakistan where customers would be able to choose from world-class digital experiences which will be provisioned with options for smart dimmable lighting, AC & TV Controls, Motion Sensors, Passive Security, CCTV Cameras, Shading, & Background music, along with Wi-Fi 6 based reliable wireless connectivity to cover whole comfortable living dimensions.
In present time, smart communities compliance with more secure provision along with international standards of living. From traditional to IoT enabled transformation is ongoing and creating massive impact on how homes for the future are being shaped and modeled. Digitalization promises the most sustainable, healthy and comfortable environment where communities are more improvised. Digital Transformation is the way forward. Huawei Pakistan along with its smart home automation partner New Horizon are set on a mission to bring Digital Transformation to your homes and promise to deliver you maximum security, safety and comfort along with a sustainable lifestyle.
Mr Awais Shaikh, CEO MGH Pakistan, stated on the occasion that "I believe Smart communities will not only have great uses and applications but also will make housing in Pakistan secure, elegant and automated with string IT infrastructure. We aim to provide a standard of living that can be seen in other successful countries in Europe, US etc"
In the event, Mr Farrukh Aslam Group CEO of InfraPlan, Promag & Locii said while presenting the preview of P3, a Smart Homes Precinct at MGH Pakistan that"Our mission is to bring change in the current housing scene in Pakistan by providing fully automated smart home communities to fulfill the requirement of safe, comfortable and a sustainable lifestyle"
Mr Qaiser Sarwar, COO New Horizon also shared " We are happy and obliged be selected as service delivery partner to MGH Pakistan for automation and strong Infrastructure building purpose and will deliver as standard qualification as it expected".
Mr Shahzad Rasheed, CTO Huawei Pakistan mentioned that "Huawei have been delivering such technologies since ages and have built an enormous ecosystem that supports smart community to be built with standards being followed internationally. Huawei Pakistan is committed to serve Pakistan's needs upon standards as well."
In this MoU signing event, Huawei CSPO mentioned all of us need to live in a stable and safe network environment.