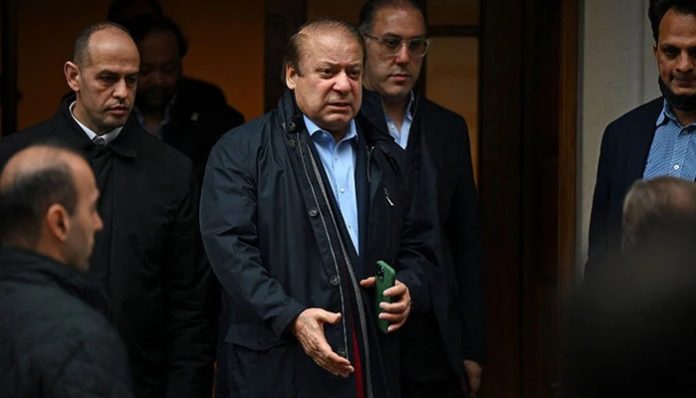 Elahi has not denied authenticity of tapes.
Nawaz condemns former SC judges who ran Panama case against him.
Says Imran Khan's era should be compared to his govt.
LONDON: Pakistan Muslim League-Nawaz (PML-N) supremo Nawaz Sharif has called for action by the Supreme Judicial Council (SJC) after an alleged audio tape surfaced in which former Punjab Chief Minister Parvez Elahi can be heard talking about fixing cases before a Supreme Court judge.
Elahi has not denied the authenticity of the tapes but has said his talk has been taken out of context.
Speaking to the media here, Nawaz said Pakistan is in a serious mess today "because of characters like this judge. There is no doubt that people like him are responsible for the crises Pakistan facing today as the country is not stabilising. These audio leaks are unfortunate and serious notice should be taken of these."
When asked if the SJC should be moved, the former premier jokingly said it is possible that a case could also be registered against him over the alleged leak since he speaks as a victim of judicial activism.
"If you don't send this case to the SJC then send my name to the same forum. Eh case vee mairay tay paa deo (register this case against me too). You have made so many fake cases against me and made so many false allegations that even this will not be surprising."
'Gang of Five'
Nawaz said that the "Gang of Five" (retired Gen Bajwa, retired Lt Gen Faiz, Imran Khan, Saqib Nisar, and Asif Saeed Khosa) are responsible for the destruction of Pakistan and called for their accountability.
"What this gang of five did to me and Pakistan was criminal. They damaged Pakistan. It's due to characters like these that the situation is out of control in Pakistan. The common man is unable to survive today. Prices of commodities are out of control."
The PML-N founder said Khan's era should be compared to his government when everything was cheap and affordable.
"Today people are unable to buy bread. It's the continuation of what happened under the Imran khan government. Compare my government with the four years of Imran khan or compare his years with mine. The nation should decide which era was better. The nation should decide when things were cheaper and when there was no load-shedding, which made Pakistan a nuclear power. The nation will get answers. We need accountability for those who tried to destroy Pakistan. If these people are not held accountable, Pakistan will not move forward."
Nawaz condemned the former apex court judges who ran the Panama case against him and disqualified him for not taking a salary from his son.
"I have been saying for over six years and I stand by that from day one and I stand by my principle that these people should be held accountable."