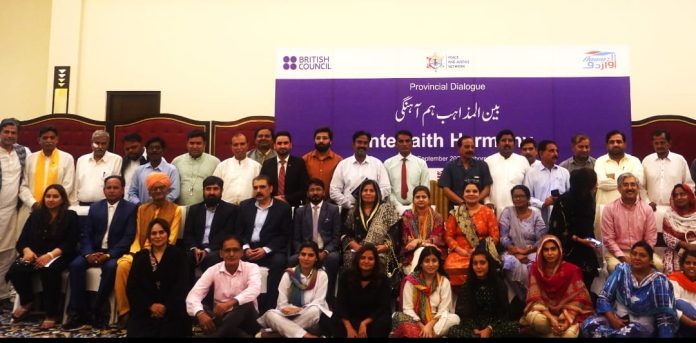 Islamabad(saqib khattar ) Aawaz Programme, in collaboration with its provincial partner, Peace & Justice Network (PJN), hosted a provincial dialogue to discuss measures and to strengthen interfaith harmony & social cohesion among the local communities in Punjab.
The event brought together more than 77 provincial-level stakeholders, including representatives from the Department of Human Rights and Minority Affairs, National Commission for Human Rights, Punjab Women Protection Authority, Auqaf and Religious Affairs Department, IT University Punjab, Social Welfare & Balt-ul-Maal Department Punjab and other relevant institutions. In Addition to this, a large number of Aawaz II Village forum, District Forums and youth members from different religious minority communities from 23 districts of Punjab including Hindus, Christians, and Sikhs participated.
The provincial dialogue aimed to create a platform for listening the voices of non-Muslim communities, recognising grassroots best practices and offering concrete recommendations for civil society organisations, provincial government and other stakeholders to further strengthen their commitment to promote a more just and tolerant society.
In her welcome remarks Dr Yasmin Zaidi, Team Lead, Aawaz II said: "Part of Aawaz II priorities is to address discrimination, exclusion and exploitation faced by vulnerable groups including religious minorities across 37 Aawaz II districts in Punjab and Khyber Pakhtunkhwa. The programme has established community forums, set-up community-led early warning system and early response mechanism (EWS-ERM) fostered connections between individuals of various faiths and strengthened their ties with relevant government institutions."
In his keynote speech Dr Ahmed Afnan, Additional Secretary, Auqaf and Religious Affairs Department Punjab, emphasised that "It is important to improve interaction and undertake awareness campaigns to promote tolerance and strengthen social cohesion in the society". He further elaborated on the various schemes implemented by his department to enhance social cohesion and uplift the status of religious minorities across Punjab.
Dr Yaqoob Bangash, an eminent researcher and writer, highlighted that minority rights should not be considered in isolation but require strong political will from the government and mainstream political parties. He underscored the need to uphold Constitutional commitments made to address religious discrimination and intolerance as well as the establishment of a national commission on minority rights.
Highlighting the current sensitive situation of religious minorities, Sanawar Balam, District Forum Member and a lawyer from Christian community, highlighted that the situation in Sargodha where more than 8 cases of blasphemy have been registered against religious minorities during the past few weeks. He requested the concerned government department to take note of this situation to avoid any untoward incident like Jaranwala.
Participants representing religious minorities from different districts of Punjab provided case examples of the best practices from Aawaz II's experiences in various districts, sharing testimonies of case studies such as conflict over burial places, incidents of societal intolerance and dispute over water source which were successfully pre-empted with the help of EWS-ERM that Aawaz II established across its communities.
Guru Sukh Dev, member of District Forum and Aman Committee from Rahim Yar Khan, recommended that "The government should immediately constitute a national commission on minority rights and restore the graveyard lands from local influencers and the Evacuee Trust Property Board (ETPB) should maintain temples in accordance with the directives of the Supreme Court's 2014 judgment."
Representatives of religious minorities from Aawaz II Village and District forums shared their personal experiences of how they felt excluded, faced hate from their neighbours due to their religious beliefs. During the process, participants, especially members from religious minorities shared several recommendations to promote interfaith harmony and safeguard the rights of religious minorities. These recommendations included organising capacity-building sessions for district human rights and interfaith harmony committees, addressing behaviour change in schools to prevent false blasphemy allegations against children, offering alternatives to compulsory Quranic classes for children of religious minorities and taking measures against forced conversions & marriages of young girls from minority communities. Their suggestions emphasised the importance of inclusivity and the protection of minority rights within the community.
Aawaz II aims to create awareness, behaviour change and increase citizen-state engagement to promote behaviour change on harmful practices of child marriage, gender-based violence, exclusion, exploitation and intolerance. The programme has reached over 30 million individuals with its interventions including communications campaigns on behaviour change.
The five-year long programme is managed by British Council with support from Foreign, Commonwealth and Development Office (FCDO).