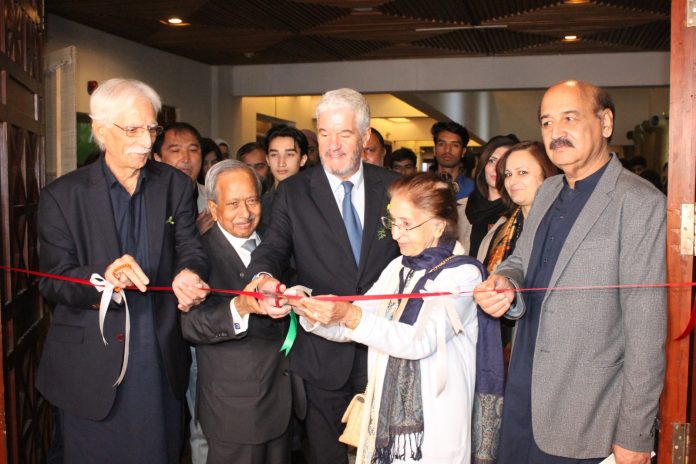 Islamabad, November 18, 2023 – The Center for Public-Cultural Diplomacy (CPCD) Islamabad successfully organized the "Arts, Crafts & Techno Exposition" at PNCA in collaboration with the Pakistan National Council of the Arts. The Inauguration Ceremony took place on Thursday, 16th November, 2023, with distinguished guests including Dean of Diplomatic Corps Atadjan Movlamov, Ambassador of Turkmenistan, accompanied by Frederico Silva, Ambassador of Portugal, and Nguyen Tien Phong, Ambassador of Vietnam.
The event commenced with a Tree-Plantation ceremony at the lush green lawn of PNCA premises, where Ambassadors of Turkmenistan, Portugal, and Vietnam, along with DG PNCA, Chairman CPCD, and well-known veteran Artist Hajera Mansoor w/o famous Painter Mansoor Rahi, and Rasheed Butt Caligrapher planted saplings to contribute to a greener environment.
In his opening speech, the founding Chairman of CPCD welcomed the esteemed guests, elucidating the organization's manifesto and mission, emphasizing the critical issues & challenges of climate change that need to be mitigated through innovative solutions and practical implementation. To further highlight environmental concerns, students from Grammar School Rawalpindi presented a compelling "Save Water" tableau performance plus environment animations by reputed Nigar Gogi & Stuff Solutions. Another special attraction of the Expo is its Techno segment of child & young students from different institutions including the IIUI, Air Varsity, Saaf Mohalla, etc.
The Exposition featured a captivating artworks & crafts exhibition as well as Techno demos & creative workshop by young talents. Ambassador Frederico Silva inaugurated the Exposition, showcasing artists' poignant expressions on climate preservation, nature conservation, and the reduction of plastic usage. Renowned calligrapher Abdur Rasheed Butt and Mansoor Rahi & Hajra also took part in the Expo with their extra-ordinary art-pieces. Of significance were the SurahAl-Rahman & Muhammad (PBH) There were many art enthusiasts from the twin cities along with families & friends.
The CPCD's "Art, Crafts & Techno Exposition" not only celebrates art and culture but it also serves as a platform to the budding artists and to raise awareness about pressing global climate issues and win support on disaster relief efforts. One especial element by CPCD is the establishment of an Endowment Fund for the disadvantaged artists shortly. For both, CPCD urges particularly the Corporate Sector and Philanthropists to come up with generous support and involvement in climate-change solution-development projects.
The Climate Artworks Expo has been curated by the CPCD team led by Iram Wani with Saima Salahuddin, Saniya & Nazir Hunzai, helped by Mariam Ahmed of PNCA.
The Climate Exposition will be open to the public until 25th November, from 10 am to 4 pm daily, at Grand Hall, Gallery No. 2&3 in PNCA Islamabad. The Expo will be rounded off with Special Prize/Certificate Presentation Ceremony & Music Concert.