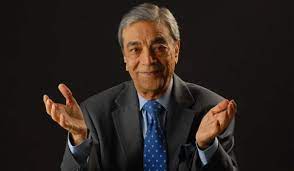 Known as a legend in his lifetime, famed thespian Zia Mohyeddin breathed his last in Karachi at the age of 92,
The funeral prayers of the late thespian were offered today (Monday) at a mosque in DHA after Zuhr.
Mohyeddin had been unwell and was admitted to the intensive-care unit of a hospital, it had been reported earlier today.
The veteran actor, director, voice artist and founding head of the National Academy of Performing Arts (Napa) enjoyed a legendary status in Pakistan for his services for theatre and literary recitations. He was elevated last year as the president emeritus of Napa.
Mohyeddin, who was trained in dramatic arts in the United Kingdom, not only performed in a variety of stage roles from Shakespearean to modern characters in Pakistan and abroad but also acted in foreign films such as David Lean's Lawrence of Arabia.
After coming to Pakistan, he promoted the performing arts in various capacities. Under his leadership, Napa trained a large number of actors, singers and instrumentalists.
Known for his excellent compering, broadcasting, poetry and prose recitation and acting and theatre direction, the late British-Pakistani had mentored hundreds of students who are now working in different fields of TV production and acting.
Born in Faisalabad, on June 20, 1931, Mohyeddin graduated from Government College, Lahore. He later studied at the Royal Academy of Dramatic Arts in London and on his return to Pakistan, he produced, directed, and acted in numerous plays.
In 1962, he played a memorable role in the movie Lawrence of Arabia with director David Lean, followed by Behold the Pale Horse in 1964 with director Fred Zinnemann, and later in Immaculate Conception in 1992 with director Jamil Dehlavi.
While the late actor was known for his extensive work in British television, his launch as lead in Lollywood's Mujrim Kaun in 1970 did not end up being successful, despite a good story and soundtrack.
In 1970, he came to Pakistan and presented the now legendary Zia Mohyeddin Show on PTV. Later, he accepted the post of director at the PIA Arts Academy.
In 2005, Zia Mohyeddin set up Napa in Karachi. In 2012, he was honoured with the Hilal-i-Imtiaz for art.
He is also the author of three books: A Carrot is a Carrot, Theatrics and The God of My Idolatry Memories and Reflections.
Pakistanis send in condolences
Politicians, celebrities, journalists, activists and others across Pakistan expressed grief as soon as news of Mohyeddin's passing spread, with people calling it the end of an era.
Prime Minister Shehbaz Sharif, in a statement on Monday, said Mohyeddin's unique style earned fame all over the world, including Pakistan.
"Mohyeddin introduced a new dimension to television hosting in Pakistan," the premier said, adding that Mohyeddin earned a good name for the country. He praised Mohyeddin's role in training budding artists in his capacity as Napa's president.
Paying tribute to his services, PM Shehbaz said Mohyeddin's voice will continue to resonate in our minds.
Federal Minister of Information and Broadcasting Marriyum Aurangzeb also sent her heartfelt condolences to the late thespian's family.
She said Mohyeddin was a literary figure whose style of reading and speaking gained fame worldwide.
The information minister said that the services of Mohyeddin in the showbiz industry will always be remembered.
In a press statement issued by Napa, Jawaid Iqbal, the chairman of the board of directors, said Mohyeddin was a brilliant teacher who mentored and trained numerous students of theatre and that he was a "committed professional and set the highest standards of academic excellence and integrity".
Iqbal said the thespian's loss will be deeply felt by his students, admirers and friends across the globe. He also extended his condolences to Mohyeddin's wife Azra and children on behalf of the Board, CEO and entire Napa fraternity.
Journalist Beena Sarwar called Mohyeddin "an institution in himself".
President Dr Arif Alvi said Mohyeddin's death was a "personal loss" to him.
"He was a giant in the arts, an actor, producer, director and above all an excellent reciter of prose and poetry accompanied by music typically prompting with a pause," he wrote on Twitter.
Former prime minister Imran Khan said he was saddened to learn of the passing of Mohyeddin and shared that he knew the legendary icon for decades.