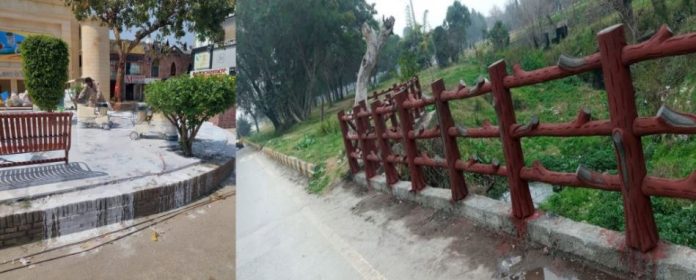 ISLAMABAD: April 17, 2021 (TNS): The Capital Development Authority (CDA) administration has completed the renovation work of sit-outs across the city. On the other hand, bus stops are being repaired and renovated and new bus stops are being constructed to provide better transportation facilities to the citzans.
According to the details, the administration of the Captal Development Authority (CDA) is striving to provide beauty and recreational facilities to the citizens across the city. Has been taken. The newly constructed sitouts will also be completed by next week. In the first phase, CDA's Market and Road Maintenance Department will construct new sitouts on Aga Khan Road in Sector F-6 School Road and F-6 Markaz. Wall outs will also be completed next week. Repair and restoration work on wooden textured railings at Parbat Road F-7 Markaz has been completed, while repair work on wooden textured guard railings at Justice Abdul Rashid Road at F-6 and Sunbal Road at F-10 Markaz has also been completed. Is.
A bus stop has been constructed at F-10 Service Road East while construction of bus stop at Shaheed Millat, Melody Market and Aabpara Market is underway.