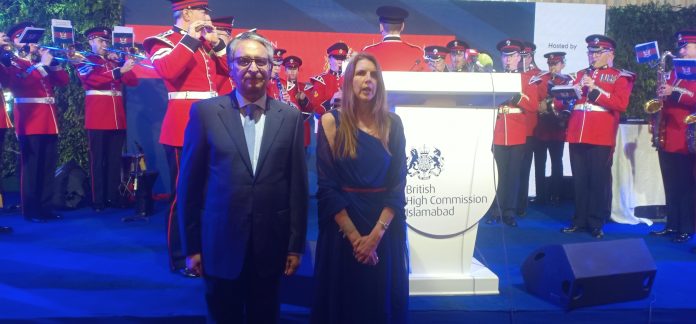 Islamabad – 15 November 2023 (Adnan Hameed) : – British High Commissioner Ms Jane Marriott, during an event commemorating the 76th birthday of King Charles, announced a doubling of the United Kingdom's investment in Pakistan. The increased support aims to address climate change, enhance climate resilience, and promote adaptation initiatives in Pakistan.
Aligned with the United Kingdom's advocacy for a 'Loss and Damage' fund at COP 28, focused on assisting climate-vulnerable nations, the commitment underscores a shared commitment to environmental sustainability.
The evening, themed around environmental sustainability and climate change, featured a captivating performance by the historic Band of the Artillery Company, approved by King Charles himself. The event emphasized the urgent need to address climate vulnerabilities, particularly in the aftermath of devastating floods affecting millions in Pakistan last year.
Highlighting the collaborative spirit, High Commissioner Jane Marriott announced key initiatives, including the expansion of an AI-based 'Early Warning Forest Fire Detection System' in collaboration with the Global System for Mobile Communications. This project aims to minimize the risk of forest fires and protect lives and biodiversity in Khyber Pakhtunkhwa (KP) and the Federal Capital Territory.
Other collaborative efforts unveiled include the expansion of the Chevening scholarship program through new private partnerships and the establishment of the online 'Pakistan Museum of Food' in collaboration with Google and the Save and Observe Children's Health (SOCH) Foundation.
The grand celebration also included a momentous large-size cake cutting ceremony, symbolizing the unity between the United Kingdom and Pakistan. British High Commissioner Jane Marriott and Caretaker Minister of Foreign Affairs of Pakistan Jalil Abbas Jillani jointly cut the cake, adorned with a beautifully painted British flag.
Expressing gratitude for the collaborative efforts, High Commissioner Marriott acknowledged the dedicated teams involved in organizing the event.
Caretaker Foreign Minister Jalil Abbas Jilani conveyed felicitations to the people of Great Britain and the British family, emphasizing the positive trajectory in the bilateral relationship. He expressed gratitude for the British government's generous assistance in the aftermath of massive floods in Pakistan last year.
The event showcased the strong economic, trade, political, and defense partnerships between the two countries, with a special acknowledgment of King Charles' advocacy for environmental sustainability and innovations.